Design Student Creates Self-Filling Water Bottle, Turning Moisture In The Air Into Drinkable Water
November 25, 2014
An industrial design student at the University of Applied Arts in Vienna has developed a self-filling water bottle for your bicycle.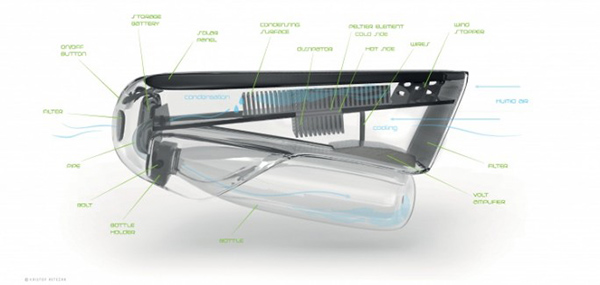 KRISTOF RETEZAR
Kristof Retezare named his gadget, Fontus, which collects the moisture contained in the air, condenses it and stores it as safe drinking water. Powered by solar cells, it can harvest up to 0.5 liters of water in an hour's time under the right climatic conditions.
Fontus was a finalist for the 2014 James Dyson Award, an international design competition.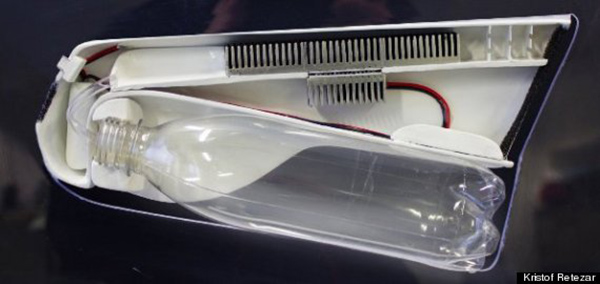 KRISTOF RETEZAR
How does it work?
According to the website:
In order to achieve condensation, one must cool hot, humid air down. The device has a small cooler installed in its center called Peltier Element. This cooler is divided in two: When powered by electricity, the upper side cools down and the bottom side gets hot. The more you cool the hot side down, the colder the upper side will get. Consequently, these two sides are separated and isolated from each other.

The air enters the bottom chamber at a high speed when moving forward with the bike and cools the hot side down. Moreover, when the air enters the upper chamber it is stopped by little walls perforated non-linearly, reducing its speed in order to give the air the needed time to lose its water molecules.

The condensing structure represents the largest surface in the smallest space possible. This provides a large surface for condensation to happen. Droplets then flow through a pipe into a bottle.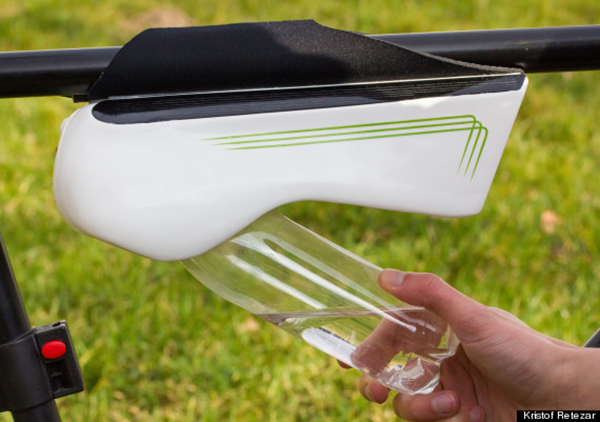 KRISTOF RETEZAR
Learn more on JamesDysonAward.org.
Please consider
making a donation
to
Sunny Skyz
and help our mission to make the world a better place.
Click Here For The Most Popular On Sunny Skyz
LIKE US ON FACEBOOK!