A History Of Strong, Single Women And Mother's Day
By Amanda Richter • May 11, 2014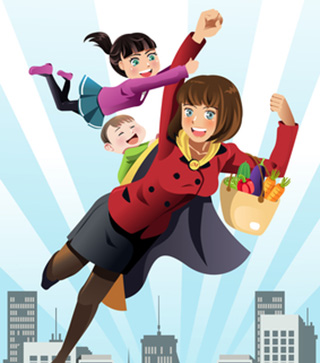 Mother's Day is a terrific time to honor the women who put their family's care, well-being and happiness above all else. While motherhood is always challenging, single moms have a special reason to celebrate Mother's Day. Hard work, long hours, sacrifices and doing the job of both Mom and Dad can be exhausting—here's to the women who do it alone.
As a single mom on Mother's Day, celebrate your hard work and triumphs as a mom while also recognizing those strong women who came before you. St. Helena Augusta was the first famous abandoned mother, living from about 250 AD to 330 AD. She Emperor Constantine I by herself while simultaneously changing the face of Christianity. The mother of Alexander the Great, Olympia, and Cleopatra were both powerful single mothers who ruled nations and charted their own courses in history.
Celebrating the Mother of Mother's Day (and Her Mother)
Born in 1864, Anna Jarvis is the founder of Mother's Day. She was never a mom herself but Anna Jarvis was devoted to her mother, Ann Maria Reeves Jarvis, who founded the Mothers' Day Work Clubs. The women in these clubs worked to improve sanitary and health conditions in five cities across the country. The Mothers' Day Work Clubs also cared for soldiers on both sides of the Civil War, treating wounds while providing food and clothing.
In 1907, during a memorial service for her mother at Andrews Methodist Church in Grafton, West Virginia, Anna Jarvis decided to create a holiday celebrating mothers. To promote acceptance of the holiday and honor their mothers, people wore carnations—white to pay tribute a deceased mother and red to honor a living one. Jarvis' campaign worked. Philadelphia celebrated its first official Mother's Day the next year and it became a national holiday in 1914.
The tradition of sending flowers on Mother's Day also comes from Anna Jarvis. According to MothersDayCelebration.com, carnations were Anna's mother's favorite flower and she said that they symbolized a mother's pure love. Today, we send flowers from FTD.com and other delivery services—in a different method, but with the same symbolism in mind.
Today's Single Moms Celebrate Mother's Day
The tradition of strong single mothers still rings true today. Contemporary examples of successful single mothers include Halle Berry, Katie Couric, Sofia Vergara, and Jackie Kennedy Onassis. Like you, these women singlehandedly raise a family, maintain a household and have a successful career. Many of them are also in charge of celebrating holidays—even Mother's Day.
Single mothers deserve extra exaltation on this special day and can arrange to visit the International Mother's Day Shrine, which now inhabits the Andrews Methodist Church where Anna Jarvis invented the holiday.
PREVIOUS STORY NEXT STORY SHARE YOUR STORY
Please consider
making a donation
to
Sunny Skyz
and help our mission to make the world a better place.