Hiding Like A Tortoise
By Joseph J. Mazzella • November 14, 2023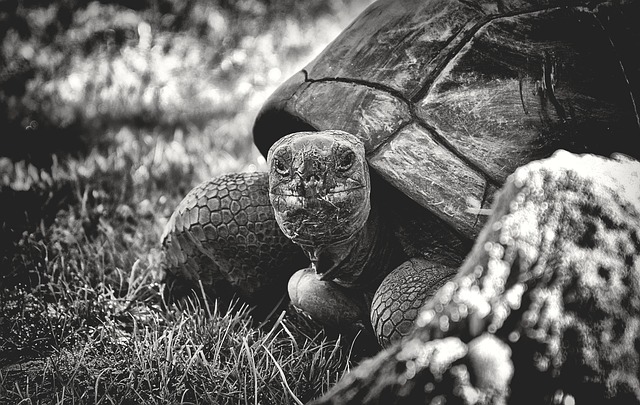 When I was a young father every Spring at the end of May near Memorial Day, my wife and I would take our kids to her family reunion. It always took place at a picnic area on the side of a mountain. On the top of the mountain was her family's graveyard. The road to the top of it wasn't too gentle either. Even when it was grated, it was a rough ride with a dirt road full of pot holes, hairpin turns, and jutting rocks that could rip the bottom of your car out if you hit them wrong. If it had recently rained you had to go quick too or you ran the risk of getting your car stuck in the mud. Cars would roar up the road fast then looking for parking spots along the side of the hill in the grassy areas. You always had to keep your eyes on the road even when you were stepping out of your car.
On one of these reunions I remember seeing a small tortoise sunning itself on the top of a rock near the end of the road at the graveyard. I watched as one car zoomed up and barely missed him on the right. Then a second car zipped up even faster and barely missed him on the left. The guy ducked into his shell both times thinking that would protect him, but I knew if one tire ran over the little guy he would be dead. I quickly walked over and grabbed him before the next car came roaring up the hill. Then I walked him deep into the nearby woods. Finally I found another stone where he might sunbath in safety and left him there in peace.
Over the years I have felt a lot like that tortoise at times. I have felt scared. I have felt like hiding in my shell. I have felt like life was about to run me over. Every time this has happened, though, I have felt God's loving hand lifting me up and carrying me back to the light. Every time God has been there to comfort me, reassure me, and fill me with His Love. Life can't be lived hiding in our shells. God meant for us to live in the Light. May we always do so.
PREVIOUS STORY NEXT STORY SHARE YOUR STORY
Please consider
making a donation
to
Sunny Skyz
and help our mission to make the world a better place.