Brother saves siblings from blazing house fire
May 21, 2012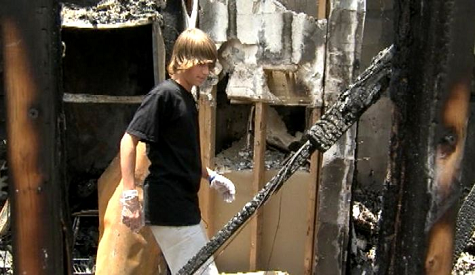 12 year old Justin Jackson was babysitting his four younger siblings at their home in Florida when the house suddenly caught on fire.
A lightning storm caused the power to go out, which made it an early night for the 4 brothers and 1 sister. All of them had fallen asleep when the fire began.
Justin woke up around two in the morning to the curtains set on fire. He ran to all of the bedrooms knocking on the doors yelling to get his siblings out of the house.
Justin successfully walked his three brothers out of the house but soon realized his sister was still inside. He ran back into the burning house to get her outside. After escorting his 3 year old sister to safety, they ran to a neighbor's house to call the police.
Being so late in the middle of the night, the neighbors were not answering the door. Justin had to run back into the house a third time to call the police and hopefully save the house and the valuables left inside.
Justin's mother was working a night shift at the time of the fire and his father was away on a business trip.
When asked about his heroic actions and why he ran into the burning house 3 times, Justin humbly replied, "I was just helping my family."
Watch the video below...
Please consider
making a donation
to
Sunny Skyz
and help our mission to make the world a better place.