Resilience keeps 6 generations of this family alive today
May 18, 2012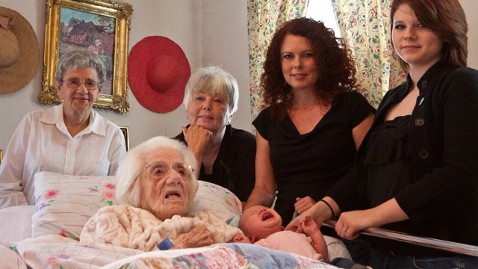 Six generations of daughters alive at the same time sounds impossible, or improbable. But this Virginia family can prove it.
It all starts with Mollie Wood, who was born back in 1901, and stops at the current moment with 7-week-old Braylin Marie Higgins. Braylin is Molly's great, great, great granddaughter.
When asked what the secret was to their longevity, they answered "We're, ornery!". I don't know if it's being stubborn that keeps them going, but they are still going. Molly is a whopping 111 years old right now!
Mollie's daughter, Louise Minter, is still going strong at 88 years old. She is still working by cleaning houses after she retired from General Electric.
"It gives me a little extra money," she said. "I don't have to watch a dollar so careful."
According to the husbands of the family daughters, all of them are very self-sufficient, independent, tough women. They can take on any challenge. One instance was when one of the husbands was diagnosed with cancer, and for 3 years Bette Goodson, the first granddaughter of Mollie Wood, took care of him as well as maintain the home and rental properties.
All six generations got together for Mollie Wood's 111th birthday this past April. The family claims Mollie, who was still sharp until age 109, is a little less so now. To have it all together at 109 years olf age is quite an accomplishment.
It's a heartwarming story to see a family reach so far and all be around eachother at the same time. One question still remains...is a 7th generation possible?? Impossible? Or improbable :)
Please consider
making a donation
to
Sunny Skyz
and help our mission to make the world a better place.