Dog saves owner from oncoming train
May 14, 2012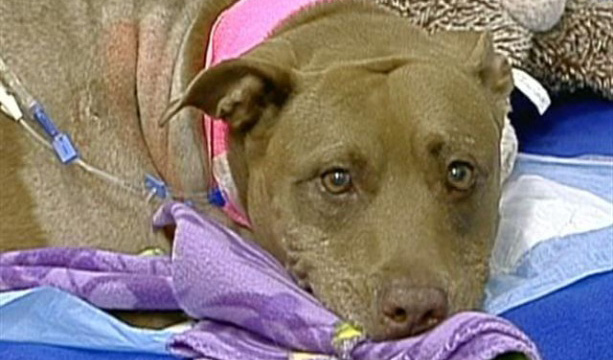 Christine Spain had fallen down and laid unconscious on train tracks with an oncoming freight train in the near distance. If it wasn't for her dog, she may very well not be here today.
The engineer of the train reported that he saw a dog pulling a woman off of the train tracks ahead, but could not stop the train in time at the rate and speed it was going.
Lilly, the owner's pitbull, managed to get her owner Christine off of the tracks and to safety, but took a hit in the process. Christine was uninjured, but unfortunately Lilly's foot was hit causing a fracture in her pelvis.
When police arrived, Lilly was found standing over Christine's body as if she was protecting her. She was immediately taken to an emergency animal hospital for her injuries.
The MSPCA has been treating Lilly, who raised over $76,000 in donations from several people around the world. Although the surgery will only cost around $15,000 for Lilly, the remaining donations will be used to help pay medical bills of future pet injuries.
Lilly is now considered a hero, as she very well should be! She could sense that her owner was in trouble and was smart enough to know that she needed to get her off of the train tracks. If only she was able to get off the tracks in time too, but we all know she will make a full recovery.
Please consider
making a donation
to
Sunny Skyz
and help our mission to make the world a better place.