Fearless construction worker jumps into acid to save co-worker
May 10, 2012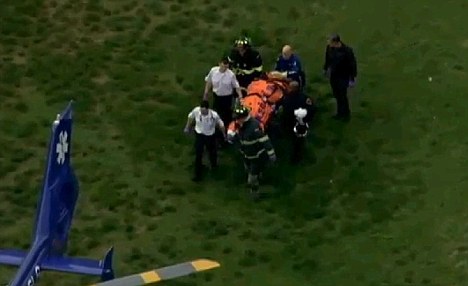 Rob Nuckols fearlessly dove into a pool of steel-cleaning acid to save his co-worker who had fallen in.
Martin Davis had fallen 40 feet from a weakened part of a roof he was standing on, which happened to be directly over the steel cleaning acid.
He was dragged out unconscious by Nuckols, with the help of three other co-workers during the rescue process. Davis was taken to a hospital in New Jersey and treated for severe chemical burns. All of the rescuers involved were also taken to be treated for chemical burns.
When asked about the rescue, Nuckols replied, "I had to get him out of there."
Martin Davis' brother, John Davis told reporters that he Martin was in critical condition today, but doing okay.
John, also a construction worker, said, "In our trade we stick together. It's a serious business. You'll die out there. You've got your family to feed and you have got to protect each other."
Rob Nuckols knew what he was jumping into to save his work colleague and didn't think twice. His bravery and courage prove a lot about him as a person. Someone close to him was in trouble, and he risked his own life to save him.
Cheers to that!
Please consider
making a donation
to
Sunny Skyz
and help our mission to make the world a better place.