Abandoned teen accepted to Harvard working as a janitor
May 7, 2012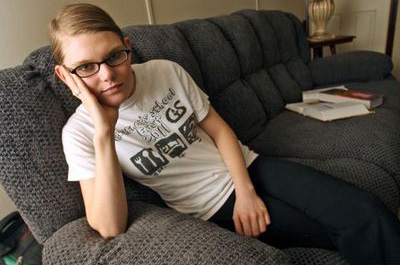 Dawl Loggins life is finally turning around, as she has just been accepted into the prestegious Harvard University. She is currently working as a janitor at Burns High School to provide and take care of herself.
Dawn was left to fend for herself when her parents left her at a young age with no plans to return. She was going from house to house sleeping on couches when possible, living part of her life with her grandmother in a homeless shelter.
Her entire life she was ridiculed and called ugly by her peers. She grew up in a household where she was unaware that you needed to shower or bathe regularly. Unaware that you need more than one outfit to wear to school everyday. Her parents were never there for her and when they were, it was more harmful than helpful.
"When I was younger I looked around at my family and I saw the neglect, the drug abuse, the bad choices and I saw my family living from paycheck to paycheck and I just made a decision for myself that I was not going to end up like my parents," Loggins said.
And after all this childhood neglect and ridicule, it was not enough to stop her, and perhaps may have added fuel to her fire.
It's a great story to prove that no one is responsible for you but YOU. She made no excuses, didn't blame others, and didn't accept failure as her only future. She made it happen on her own, reguardless of how many times she was put down.
Harvard is helping with her scholarship as well as support from her community.
Dawn Loggins is an inspiration and proved that when all the odds are against you in every way, you can still fight and win.
Please consider
making a donation
to
Sunny Skyz
and help our mission to make the world a better place.