Dog Miraculously Survives 72 Days Alone In Colorado Mountains After Owner's Death
November 18, 2023
A faithful Jack Russell Terrier named Finney has defied the odds, enduring 72 days alone in the Colorado mountains after his owner tragically succumbed to hypothermia.
Finney was found by his late owner's side.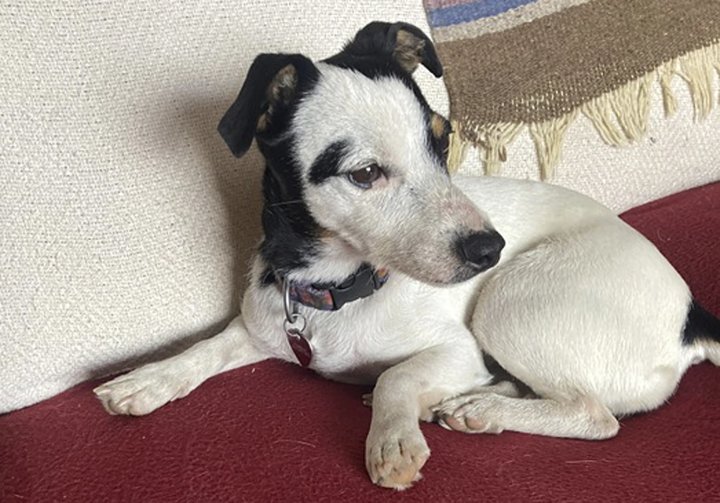 Credit: Dana Holby via AP
Rich Moore, a 71-year-old resident of Pagosa Springs, Colorado, embarked on a hiking adventure with his Jack Russell terrier, Finney, on August 19, aiming to conquer Blackhead Peak. Unfortunately, he never returned home, triggering a days-long search spanning from the peak to his parked vehicle, but with no success.
The distressing search came to an end when a hunter discovered Moore's body and a fiercely protective Finney in the San Juan Mountains of southwestern Colorado on October 30.
Moore, who was an experienced hiker, died of hypothermia, Archuleta County Coroner Brad Hunt said. Hypothermia can cause people to become disoriented and confused.
But tiny Finney somehow survived, likely by hunting small animals such as mice while also managing to avoid predators like mountain lions, coyotes and bears, Delinda VanneBrightyn with Taos Search and Rescue said.
"If that dog could talk it would be an amazing story," she said. "We probably could not even believe the story the dog would tell."
Officials reported that Finney, having lost about half of her body weight, displayed visible ribs, a testament to the challenging conditions she faced during Moore's absence. However, less than three weeks after the discovery, there is a glimmer of hope in Finney's recovery.
Dana Holby, Moore's wife, shared with The Associated Press on Thursday that Finney is now doing remarkably well. She has nearly regained all her lost weight, and her strength is approaching its pre-ordeal levels, earning her the endearing title of the "miracle dog."

Rich / Finney | Credit: Facebook
Holby shared that Finney's remarkable survival story has turned her into a local celebrity on the hiking trails around Pagosa Springs. Passersby often recognize her and inquire, "Is that Finney?" to which Holby responds with an enthusiastic affirmation.
Reflecting on Finney's unwavering loyalty, Holby expressed, "I know that she was with Rich to the very end, and somehow that should be a comfort. I don't know how she did it, but she was there when he needed her."
Please consider
making a donation
to
Sunny Skyz
and help our mission to make the world a better place.