Act Of Kindness Lifts Spirits Of Business Owner Hit By Multiple Break-Ins
November 15, 2023
Today's good news story comes from Portland, Oregon.
Blane Hartleb, owner of a local business in Portland, recently faced a string of unfortunate events when his establishment was broken into not once, but twice in quick succession.
However, amidst the challenges, a stranger's selfless act has sparked a chain of generosity in the community.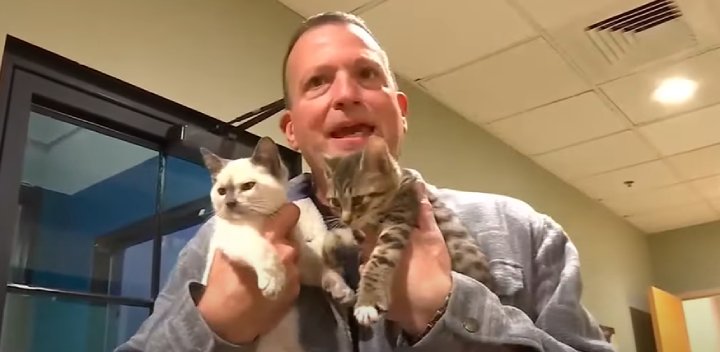 Blane Hartleb / KPTV FOX 12 Oregon
Outrageous Audio, a business specializing in car audio systems, remote starts, security systems, and more, has been a staple in the Portland community for over 37 years. Hartleb, who started the business in his teenage years, has become a local fixture known for his dedication to quality service.
In a recent interview with FOX 12, Hartleb shared the frustrations of dealing with the aftermath of two break-ins. The first incident targeted the warehouse, resulting in damaged locks, and the second involved the front door being kicked in. However, amid the challenges, a random act of kindness illuminated Hartleb's path.
After the news story aired, Matt from Town & Country Glass reached out to Hartleb, expressing his desire to pay it forward. Matt, a fellow small business owner in Portland, offered to repair the broken glass free of charge, providing a much-needed glimmer of hope to Hartleb and his team.
Inspired by this unexpected act of generosity, Hartleb decided to extend the positive energy to the community. Seeking input from the Outrageous Audio Facebook group, he chose to make significant donations to causes close to the hearts of the community—children and pets.
FOX 12 captured the moment as Hartleb delivered a generous donation exceeding $5,000 to the Oregon Humane Society (OHS). In addition, he plans to make an equivalent contribution to St. Jude Children's Research Hospital.
Hartleb's commitment to giving back doesn't stop there. Responding to customer reviews, he pledged to donate $5 for each of the 1,035 new reviews, totaling $5,175 for each charity.
In the face of adversity, Hartleb maintains a positive outlook, likening it to the lights he installs in cars. "You know, the bad things are going to happen. It's okay, you don't focus on them, let's focus on the good things," he remarked.
Watch the good news video below.
Please consider
making a donation
to
Sunny Skyz
and help our mission to make the world a better place.