High School Students Rally Together To Cover Beloved Teacher's Wife's Heart Surgery
July 29, 2023
In an inspiring display of compassion and solidarity, the students of Arcadia High School in Phoenix, AZ, have come together to help their beloved teacher, Mr. Guy, pay for his wife's much-needed heart surgery.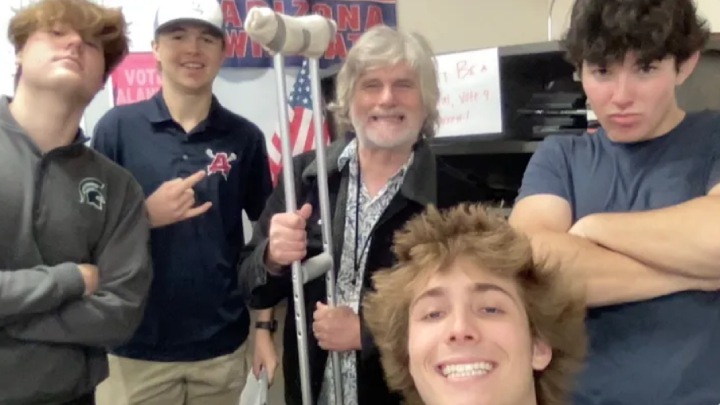 Mr. Guy's 3rd-period government class / Credit: GoFundMe
Clayton Guy has been a teacher for over 25 years. He has taught government and economics at Arcadia High School since 2004.
But last spring, the students sensed a change in Guy's demeanor.
"Overall, Mr. Guy [is] always in a great mood, he brings just a great vibe to the class, and he's always energetic," said Parker Bond, one of his students.
Bond was a senior at the time and says he and his classmates could tell their favorite teacher was stressed.
"We could tell that something was off. We didn't know what it was, but he did end up telling us," he said.
Guy eventually explained that his wife, Angel, had been having chest pains and needed open-heart surgery.
"We'd take days off, meet surgeons — and then finally I had to tell students what was going on," Guy told Fox News.
"I was missing days and missing time, and on March 11, we did the surgery. Then I had to be out from that day on, because I was her nurse and the person who would give her the pills and take care of her and be at the hospital."
Bond and a few other students researched the details of Angel's heart surgery and learned that it was very expensive, "even with insurance."
So, he and the other students decided to launch a fundraiser for the surgery.
On July 29, the fundraiser reached its goal of $10,000. The generosity of the donors, both large and small, showcased the profound impact that Mr. Guy had on his students and the community.
"Mr. Guy has always been such a caring, kind, and intelligent teacher and person. I still feel the positive impact he had on me even after nearly 10 years since being his student (class of 2015). I am so happy to see how much support he and his wife have received - thank you to Parker and his class! And thank you again to Mr. Guy for being who you are!" Jamie Paceley wrote on GoFundMe.
"I think we were Mr. Guy's first year of teaching!! Man did we give him a run for his money!!! One of the best, most accepting, compassionate teachers I ever had!!! Best wishes for your wife and family," Kathleen Mccollister commented.
Please consider
making a donation
to
Sunny Skyz
and help our mission to make the world a better place.