Brave Livestock Dog Takes On 12 Coyotes And Wins, Saves All Of The Sheep
December 5, 2022
A 2-year-old Great Pyrenees livestock dog displayed his heroic actions by protecting his sheep from a dozen coyotes last month.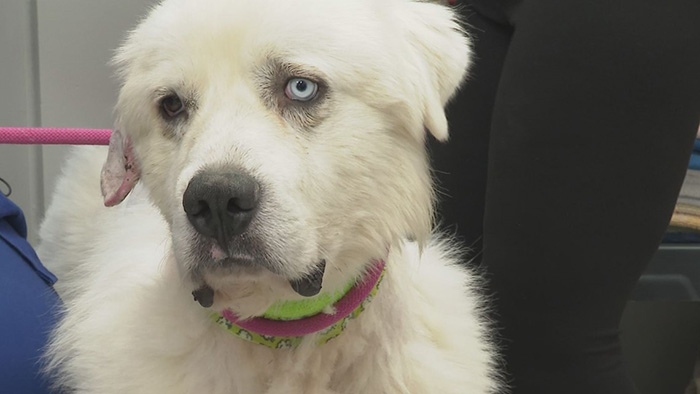 Casper / Credit: 11alive.com
Casper is still recovering after his encounter with a pack of coyotes nearly a month ago in Decatur, Georgia.
Owner John Weirville said Casper was standing guard over his flock of sheep one night in early November when about a dozen coyotes got too close for comfort. A few coyotes were already inside the pen.
"I could see the coyotes running around in this area. When I got over this way, then Casper took off," Weirville told the local news station.
Casper managed to kill eight of the coyotes, saving all of the sheep in his care. But he disappeared while chasing the rest off.
"So the next day, we thought we could find him, we thought he must have been killed and so we were looking for him," Weirville said. "If he wasn't killed, we figured he was hurt, we knew he was hurt, because we found parts of his tail and blood and other things, so we were worried about him."
Two days later, Casper showed back up to the house in the pen, where he popped his head up out of the chicken hutch.
"He looked like death, I mean he looked terrible," Wierwille said. "He came back home and he just kind of looked at me like 'boss stop looking at how bad I look, just take care of me'."
Casper underwent multiple surgeries to close up wounds on his neck and back. He is expected to make a full recovery.
Watch the video below.
Please consider
making a donation
to
Sunny Skyz
and help our mission to make the world a better place.
Click Here For The Most Popular On Sunny Skyz
LIKE US ON FACEBOOK!