130K Raised For Homeless Man Who Returned Missing Cash
September 20, 2013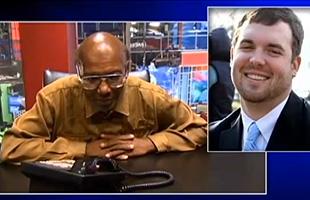 The donation amount continues to rise for a homeless Bostonian who found a backpack with more than $40,000 in cash and checks inside and returned it without taking a single penny.
After hearing the story of Boston resident Glen James' extraordinary honesty, an Alabama native stepped up as well, giving the situation a two-fold reason to restore faith in humanity.
Ethan Whittington took action and is now making headlines of his own. A friend had recently told him about a website for crowd-funding, and he decided to set up an account.
If strangers stopped giving right now, the homeless man would have over three times the amount of money he found to do with whatever he wants, but they keep giving.
Whittington started a page on the website GoFundMe.com, thinking he could raise $300 or $400 for James. "I was going to send it to the P.O. box that it listed on the article I read," Whittington explained.
The outpouring of support was explosive. Within 24 hours, more than 2,000 strangers had donated more than $55,000 to the cause. Within 48 hours, the number of donors stood at more than 3,500 and they'd given nearly $90,000! Currently the donations topped the 6-figure amount and continued upward to over $130,000 as of 9 a.m. Friday.
Whittington, and James, are both still in shock. They've spoken on the phone, but now plan to meet at some point in the coming week. In an interview with a local Boston NBC affiliate, James expressed his gratefulness for the outpouring of support.
The original goal was $50,000, but has since been upped to more than $250,000. And James may get more than cash. Whittington says he's talking with an organization that will help him manage the project adding that he's received offers for computers, clothing and possibly even a job and housing for James.
Whittington says he wanted to do something more than just hand over a check to James, that he wanted to positively influence the man's life, and spark others to do the same.
Whittington, who graduated from Montgomery's St. James School in 2004, has since moved to Richmond, Virginia, though his parents remain rooted just outside Alabama's capital city. Whittington's mom told officials at his alma mater that she thinks her son learned some of his volunteer ethic from the community service projects he did while in school.
"I feel like, if everybody could come together and create one goal like we've done for Glen, why stop with him? Why can't we influence more people?" Whittington asked.
If you would like to donate, you can do so HERE.
---
Source: WSFA.com
Please consider
making a donation
to
Sunny Skyz
and help our mission to make the world a better place.
Click Here For The Most Popular On Sunny Skyz
LIKE US ON FACEBOOK!