Man Swims 5 Hours in Darkness to Save His Family
August 28, 2013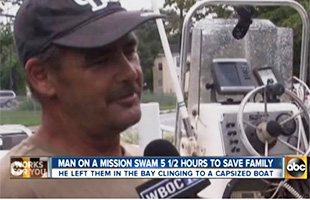 A Maryland man swam for five hours to find help for his family after their boat capsized in a fierce storm.
John Franklin Riggs, 46, left four family members — including two children — clinging to a 16-foot skiff near Deal Island, Md., for nearly eight hours.
"Our legs were getting stung over and over again by the jellyfish. We had cuts and bruises. My son was crying. Waves kept crashing over our heads," Riggs' sister Contessa Riggs, 43, told ABC News.
He hustled over rocks in the dark when he reached the shore. But he was so tired he could barely walk.
Riggs practically crawled to the nearest house he saw to knock on the front door about 1 a.m. Wednesday.
Homeowner Angela Byrd awoke to her dog's barking. She found Riggs barefoot and drenched, reported the Daily Times.
"I've been swimming since sundown; I need help," Riggs told her.
She contacted 911 and Deal Island Fire Chief Donald Ford. Rescue workers rushed to the family in boats and helicopters. The family was still alive thanks to life preservers, according to Maryland Natural Resources Police Sgt. Brian Albert.
Riggs' swim ashore helped save his sister Contessa Riggs; his father, John Riggs, 70; his niece Emily Horn, 9; and his nephew Conrad Drake, 3.
"I've never been so happy to see search boats in my life," Contessa Riggs said. "It took him five hours to swim ashore. He had to stop and grab a crab pot buoy and rest, then swim."
Emily called her uncle a "real hero" but added that she does not plan to go fishing with her family again unless the water is shallow, according to the Daily Times.
While they were fishing, a storm broke out, and water inundated their boat, causing it to topple about 7 p.m. Tuesday.
"The bay lit up," said Byrd. "It was beautiful, as scary as it was."
---
Source: New York Daily News | Image: WMAR
Please consider
making a donation
to
Sunny Skyz
and help our mission to make the world a better place.