Homeless Man's Act Of Kindness Sparks Charity Donations
August 25, 2013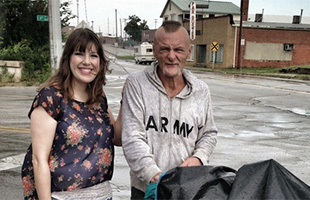 A homeless man found an assortment of stolen property and returned it to the rightful owner. The picture was posted on reddit and the act of kindness became contagious.
"This homeless man found a bunch of my wife's stolen property strewn all over downtown Tulsa," Redditor anitasanger posted. "He took the time to gather it all up in the rain and call us for retrieval. I just want to recognize him as an awesome human being."
A few commenters wrote that they recognized the man from a day center for the homeless.
"Repay him, go to that day centre [sic] and help out," one Redditor suggested. "That is what he would want," he wrote, and included a link to the Tulsa Day Center for the Homeless.
"He didn't want a thing in return," anitasanger mentioned later. "We gave him the $15 we had and thanked him for his kindness. It's awesome to be reminded that there is a lot of good in the world."
After this story began to circulate on reddit, more and more commenters got involved.
"Anyone else think this should be a permanent Reddit thing? Each month or so, we could do a charity event, pick a shelter, or a children's hospital and just flood them with donations."
Soon after, approved transactions of donations to Tulsa Day Center began flooding the comments page. People began giving any amount they could afford in honor of this man's kindness.
Transaction Status: APPROVED
Order ID: 10.174.5.137-140AD63CE8B-7A738E0B-7F5AD56C
Time: 08/23/13 05:55:34 PM
Merchant's name: TULSA DAY CENTER
Total amount: 25.00
Comments: In honor of this guy: http://i.imgur.com/tERucAb.jpg
---
Source: Reddit
Please consider
making a donation
to
Sunny Skyz
and help our mission to make the world a better place.