Autistic Girl Expresses Profound Intelligence
August 22, 2013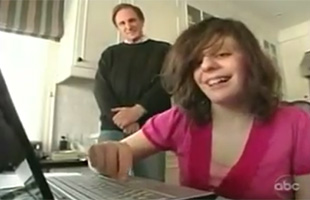 A little girl is unable to speak a word, or connect to the world around her, or so we thought. Until Carly turned 11, and suddenly, something extraordinary happened.
Carly was diagnosed as severely autistic and possibly moderately mentally retarded. Despite thousands of hours of therapy over years, Carly's progress was excruciatingly slow. But her father refused to give up on her.
One day, Carly sat down in front of a computer for the first time. That was the moment everything would change forever. She typed the words "HURT" and "HELP" on the screen while working with one of her many therapists. Carly has never written or spoken a word in her life.
Now she types for everything she needs, with fluency that is astonishing.
"I am autistic, but that is not who I am. Take time to know me, before you judge me."
When asked about her wild behavior, like banging her head or slamming her arms on tables she wrote:
"Because if I don't it feels like my body is going to explode. It's just like when you shake a can of coke. If I could stop it I would."
Carly's father finally got to meet his daughter, and find out who she was on the inside. Watch the short documentary below, it will blow your mind how intelligent she truly is...
---
Source: YouTube | Image: Screen grab
Please consider
making a donation
to
Sunny Skyz
and help our mission to make the world a better place.