High school teen invents revolutionary test for pancreatic cancer
January 30, 2013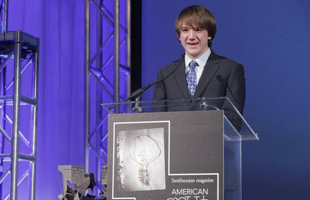 15-year-old high school sophomore Jack Andraka recently developed a revolutionary test for pancreatic cancer. His simple and inexpensive method won him multiple awards at Intel's annual Science and Engineering Fair, the world's largest high school science competition.
Andraka's innovative method involves using a dip stick sensor to test for high levels of mesothelin, which is a sign of early stage pancreatic cancer found in blood and urine.
"I came up with the idea when I was in science class," Andraka said. "I was supposed to be paying attention, but then I had this epiphany."
Currently, there is not an effective method to test for pancreatic cancer in it's early stages. It is not until the final stages when it is often too late. Doctor's hope that Andraka's early detection method will drastically increase survival rates by allowing patients the chance to respond to medical care before the disease takes over.
Andraka claims that his invention does not stop at pancreatic cancer.
"What's so cool about that is its applicability to other diseases…for example other forms of cancer, tuberculosis, HIV, environmental contaminants like E Coli, salmonella," he says. "All for three cents for a test that takes five minutes to run."
Andraka envisions having his device on the shelves of local pharmacies like Walgreens. He reports that he's already in talks with major corporations like LabCorp and QuestDiagnostics to bring his kits to store shelves.
Source: TakePart.com | Photo: Brendan Hoffman/Getty Images
Please consider
making a donation
to
Sunny Skyz
and help our mission to make the world a better place.
Click Here For The Most Popular On Sunny Skyz
LIKE US ON FACEBOOK!