Dancing Man Body Shamed For Having A Good Time Gets The Surprise Of A Lifetime
March 7, 2015
People across the world are taking a stand against public shaming after a photo of a man getting ridiculed for having a good time went viral.
This photo was posted to the website 4Chan, with a horrible caption: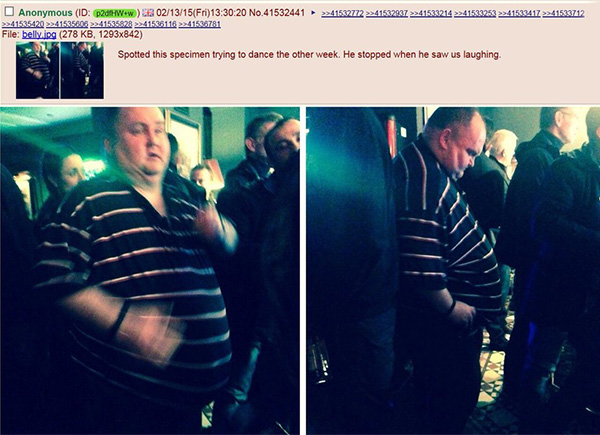 The caption reads: "Spotted this specimen trying to dance the other week. He stopped when he saw us laughing."
Another 4Chan user re-posted the photo to the website Imgur, with a new caption: "I find this behavior f***ing despicable. If you're out there big man, f**k those kids. Keep dancing."
People began to rally behind this "dancing man." Once the story reached twitter, amazing things began to happen.
Anyone know this man or who posted this? There's a huge group of ladies in LA who would like to do something special pic.twitter.com/DGbu3AXOrB

— Cassandra (@CassandraRules) March 5, 2015
Thousands of female Twitter users made plans to throw him an epic dance party in Los Angeles while also sending a strong message against body shaming.
Body shaming is awful & people hide behind social media. Help me and my 2,000 girlfriends #FindDancingMan #dancefree pic.twitter.com/i5iGXYKEwe

— Hope Leigh (@HOPELEIGHMUSIC) March 6, 2015
Cassandra Fairbanks said in a statement: "A group of 2000 strong, empowered and compassionate women from Los Angeles are on the lookout for this man. They want to show him that not everyone treats others poorly and they want to find him and DANCE. We have access to the hottest venues in Hollywood and would like to fly him here expenses paid to dance the night away. I wanted to do something nice for him. I sent out a tweet and spread like wildfire. Now we are keeping in touch as me and my lady cult, GNI (not actually a cult) plan an incredible party."
Thanks to social media, he was found in under 48 hours. The Londoner, whose first name is Sean, accepted Cassandra's offer.
YAY TWITTER!!! @Dancingmanfound #FindDancingMan ❤️❤️❤️ We are going to dance!!! pic.twitter.com/G7FxuiSsIh

— Cassandra (@CassandraRules) March 6, 2015
In case you were wondering, Cassandra wasn't bluffing about having access to the hottest venues in Hollywood. Pharrell Williams was the first celebrity to tweet his support.
Hey @CassandraRules keep me posted about your dance party! @Dancingmanfound, never be ashamed of yourself. You are both truly #OTHER🙏

— Pharrell Williams (@Pharrell) March 6, 2015
Hours later, Moby offered to DJ the party for free.
i offer my dj services for free for #DancingMan #DancingManFound #FindDancingMan . no one should ever be ashamed about dancing.

— moby Ⓥ (@thelittleidiot) March 6, 2015
Sean couldn't believe what was happening.
@Pharrell @CassandraRules Thanks for the interest and the tweet. Today is a day I have never imagined would happen

— Dancing Man (@Dancingmanfound) March 6, 2015
Just woke up to be greeted with so many more kind words. Big thanks again and am sure the charity will appreciate it as well. Thanks again

— Dancing Man (@Dancingmanfound) March 7, 2015
A fundraising page set up to pay for the Londoner's trip to Los Angeles has already raised over $24,000 - more than it's target of $20,000.
Sometimes the internet can be a wonderful thing. This is one of those times.
(H/T) Mashable.
Please consider
making a donation
to
Sunny Skyz
and help our mission to make the world a better place.
Click Here For The Most Popular On Sunny Skyz
LIKE US ON FACEBOOK!