The God Behind The Sunrise
By Mary Nella McLaughlin • July 16, 2014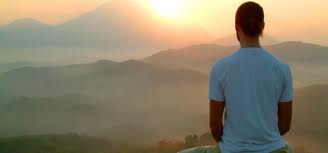 If someone points to the sunrise, point to the God behind the sunrise.
I had a conversation with someone I had just met in the corner of a kitchen at a family gathering. Tom shared a little of his life. I asked some questions based on his story and he opened up more about his struggles. He finally blurted out, "To tell you the truth, the only time I feel good is when I go out to the bluff behind my house. I get there early, sit in the quiet, and watch the sun rise."
"How do you feel sitting there all alone watching the sun rise?"
"I feel at peace."
"That's God."
"It is?"
"Yes, your connecting to your true self, your soul, and seeing beyond the beauty of the world to the God who made it – who made you."
"I guess it is. I never thought of it that way before."
"Well, next time you go to the bluff and watch the sun rise, focus on how you feel and follow that. Forget about what you think you know of God. Pay attention to how you feel. God is near."
As I drove off later that day, I could see Tom in my rear view mirror running down the drive after my car. I stopped and rolled down my window as he approached.
"I just wanted to thank you for what you said today about the sun rise."
"Well, thank you for sharing your life with me. I like you sitting on the bluff alone with God – keep doing that."
"I will."
Two months later Tom was dead of a drug overdose. I wish I would have said more. It didn't seem the right time; there were a lot of other people around. We can second guess these conversations over and over but in the end we have to trust that what was said at the time was all that was needed. God fills in the blanks.
Keep telling the story.
PREVIOUS STORY NEXT STORY SHARE YOUR STORY
Please consider
making a donation
to
Sunny Skyz
and help our mission to make the world a better place.