Helping A Lost Elderly Man Find His Way Home
By Lauren Rios • March 20, 2016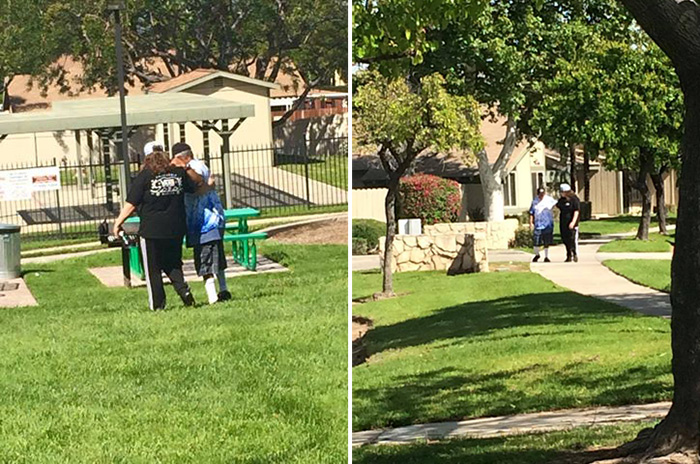 Yesterday afternoon Misty Murphy and I were sitting in the grass while the girls were playing at the park. We saw an elderly gentleman pushing a shopping cart and struggling with each and every step he took. On two different occasions, I overheard him telling people that he was lost and my heart sank as I witnessed these people completely ignore what he had said. After thinking about it for a moment, I realized that he likely had alzheimer's and/or dementia. I walked over to him and asked him if he knew where he was.. He said he didn't know. I asked him his name, he said his name was Ray (I'll leave out his last name). I asked him how long he had been walking and he said he had been lost for hours. I then asked him if he needed something to drink, he said that would be great. At this point I walked over to Misty and told her what the conversation entailed and she called the police department to let them know of the situation. I walked back over to him and gave him something to drink. After he took a few sips I asked him if he would like to join us at the park so that he could sit down at the benches. He agreed and as soon as he started to walk (without the support of the shopping cart), he was very unsteady on his feet. I told him to lean on me while we walked and he did exactly that.
It turned out that his family had reported him missing, so Misty and I let him know that we were going to wait with him until his family arrived to pick him up. I could tell that he was very nervous and uneasy, so I asked him if I could pray with him, he said he would love it if I prayed with him. He grasped my hands so lovingly as I began to pray. He said he was so thankful for Misty and I, referring to us as "beautiful angels". His daughter had tears in her eyes as she thanked us for our kindness. I was so joyful that the Lord gave us the opportunity to do just what he would have done, the right thing; the kind thing; the loving thing. It truly is more blessed to give than it is to receive.
PREVIOUS STORY NEXT STORY SHARE YOUR STORY
Please consider
making a donation
to
Sunny Skyz
and help our mission to make the world a better place.