Mad To Live Since You Died
By Donna Hart • February 17, 2015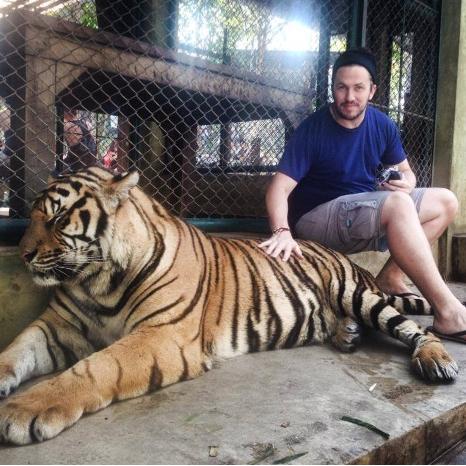 My son Jimmy died 3/30/2014 at the age of 29 while backpacking in Cambodia. He loved James Dean and Jack Kerouac especially the book 'On the Road' and inspired by that book he was Mad to Live. He decided to live out his bucket list before he was to old to enjoy it. So at the age of 28 he quit his job at Apple, sold his stock, his SUV and everything he owned and set off alone to see the world. In just one year he had been to Iceland, Paris, walked the 500 mile el Camino DiSantiago from France to Spain, worked 2 weeks on a farm in Italy came home for a few months and then headed off to Asia this time a friend went with him.He started out in Thailand, exploring every thing he could. He went to the jungle, played with the tigers and rode an elephant before heading off to Vietnam. He bought a motorbike and spent one month touring Vietnam. Next he spent a week on an Island without electricity. While in Cambodia he became ill and collapsed and died. It was devastating not just to loose a child, but he was so amazing and inspirational. Here is how I have been able to survive:
Jimmy, In the past few months I have been determined to be one of 'The Mad to Live People' you were. I try to do one thing, big or little every week. Totally spontaneous and random. So far I have gotten my Passport (can't figure out why I waited so long), went to a country concert in the Bahama's. I tried and found out I like Cranberry Sauce (I thought I hated it) I always just bought it because you liked it, had a Lobster Roll (OMG). Went to a Jack Kerouac Festival (wanted to know more about the author you loved), I look at the sky every day, lost over 30 lbs, had a shot of Jameson in your memory (at least twice), discovered Chipotle (Wow), Wegaman's, Starbuck's even went to Target, went to a mall (I didn't actually go in the mall but one of the anchor stores) my goal was to buy clothes some place other than Dress Barn. Mostly I have learned how to live without you by living the way you would want me too. My friends, your friends, my family and even strangers have been amazing. I find myself looking forward to doing more new things big and small. I am even going to try Scrapple. I will never be the same but I want to live to celebrate your life and not be lost by your death. I challenge everyone to do just one spontaneous thing every week in memory of you or someone they loved.
PREVIOUS STORY NEXT STORY SHARE YOUR STORY
Please consider
making a donation
to
Sunny Skyz
and help our mission to make the world a better place.