Unwanted House Guests
By Joseph J. Mazzella • January 23, 2013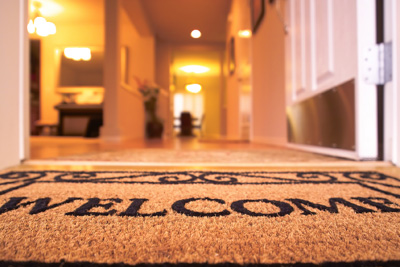 Have you ever had unwanted house guests? I am talking about the ones who wear out their welcome in the first two minutes yet plan to stay forever. I am talking about the ones who trash the place, eat all the food, sit in your favorite chair, and take over your bed. I am talking about the ones that even your dogs avoid. I am talking about the ones that take everything and give back nothing. I am talking about the ones that only brighten up a room when they leave it.
I had two guests like this for years. Their names were Fear and Hate and they seemed like permanent squatters in my soul. Every time I would try and toss them out, I would look around a few days later and find that they had snuck back in. They also invited their friends Worry, Doubt, Jealousy, Envy, Frustration, Depression, and Despair to stay as well. It made for a miserable home and a miserable life.
Finally one day I could take it no longer. I cried out to God to help me get rid of these unwanted guests once and for all. It was then that I heard a gentle knock on the door of my soul. When I opened it I found Love there smiling at me. I invited Love in and watched as my unwanted house guests fled out the door and through the windows. They couldn't leave quick enough. Then Love asked his friends Peace and Joy over to help straighten up the place. I soon realized too that Love was a guest I never wanted to leave. Every now and then Fear and Hate will try to sneak back in, but when they see Love sitting on the couch they run.
God loves us so much and He wants us to love as well. He wants us to choose love, share love, and fill our lives with love. He wants us to love each other as He loves us. He wants us to make Love our permanent house guest and best friend. Open your door then. Invite Love in. Let Fear and Hate hit the highway. Make your home a happy one now and forever.
PREVIOUS STORY NEXT STORY SHARE YOUR STORY
Please consider
making a donation
to
Sunny Skyz
and help our mission to make the world a better place.
Click Here For The Most Popular On Sunny Skyz
LIKE US ON FACEBOOK!