Vet Wears Mouse Onesie For Anxious Dog
December 16, 2018
Last week was a little unusual for Davies Orthopaedic Specialist, Mike Farrell.
Mike saw a rescue dog called Rupert who needed to come in for surgery. He didn't like being examined and his owner brought his own muzzle. He growled when Mike examined him.
When Mike came to admit Rupert, his owner was worried about how he'd respond to being in hospital and asked Mike if she could leave something from home.
Normally we say no due to infection control. Rupert's owner then produced this giant mouse costume that Mike could wear whilst handling Rupert.
Sure enough, Rupert absolutely loves Mike now - but only when he's dressed as a mouse.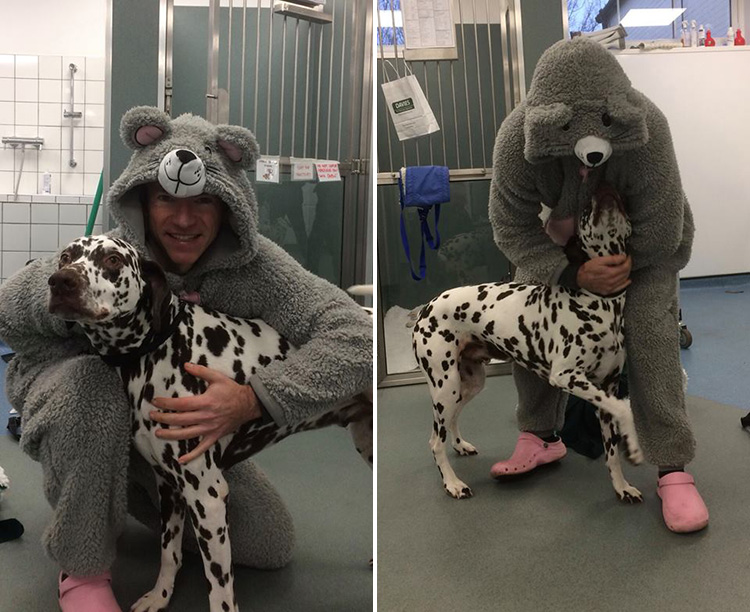 Credit: Sonya Schiff
Rupert's owner, Sonya said: "When I adopted Rupert a couple of years back he had some quite serious resource guarding issues and we were told he was to be vet muzzled for life. (For the safety of the vet)
Anyway, after lots of love, a bit of 'negotiating', and realising he was in pain, he was a far more relaxed dog.
It took a year for him to bond with me after his rehoming at which point he developed separation anxiety if I left him. That resolved in a few months and he became friendlier with other dogs as well as people. He is pretty sociable tbf. Not sure if a lot of his issues were due to the rehoming.
Anyway, going into hospital I just thought he might benefit from having the scent and sense of me with him. I thought the romper would be good for him to sleep on so was surprised, and hilariously so, to see Mike dressed in it. But what an inspired move actually. Thinking about it now, had the dog slept on it, it may have made his bed guarding worse.
I'm the only person who can pretty much do anything to Rupert and he will allow it. Trust. Hard earned.
So what with the scent (Chanel btw...lol...) and feel of the romper... Mike became 'safe'.
Amazed myself at the outcome.
Just shows what a caring creative vet can achieve.
The loveliest part of this for me were the daily updates from Mike on email with photos attached. Wonderful.
Mike is now SuperMike and adored on my fb page."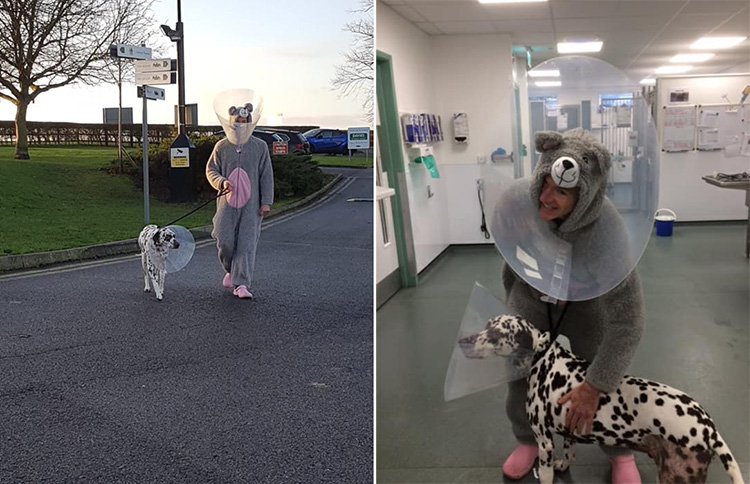 Credit: Sonya Schiff
Please consider
making a donation
to
Sunny Skyz
and help our mission to make the world a better place.
Click Here For The Most Popular On Sunny Skyz
LIKE US ON FACEBOOK!