Kevin Smith Shares A Letter He Kept From 1989 To Inspire Others
January 3, 2017
Kevin Smith took to Facebook on New Year's Eve to share a note he's been keeping since 1989. The actor, writer and producer says the relic is a great reminder to us all that "nobody writes your story but you."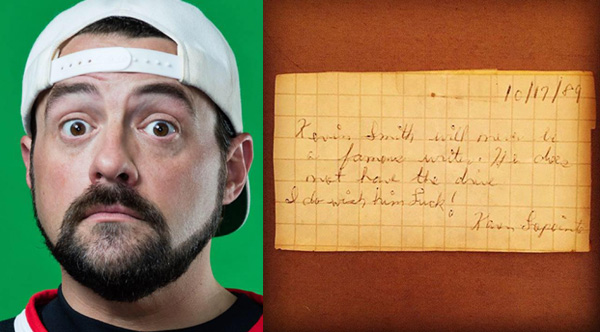 He wrote on Facebook:
"I'm gonna close #2016 with a relic from 1989. I briefly dated a girl whose Mom knew I wanted to be a writer. After her daughter and I split up, the Mother handed me a piece of graph paper that was folded up so I couldn't read it in front of her and said to me "If I'm wrong, come find me and I'll eat this."
When I got to my car and opened the note, I read something completely unexpected. In tiny words on the large piece of paper she had written 'Kevin Smith will never be a famous writer. He does not have the drive. I do wish luck.' It was also dated and signed, as if it was an official proclamation about my future. I was only 19 years old and someone had informed me in writing that my dreams would never come true. So I cut away the empty page until only the sentiment itself was left and tacked it to my desk. Later, I put it into a small baseball card frame. It was important to preserve - and not because I wanted the woman to eat it one day. The note served as a constant reminder that NOBODY writes my story but me. Rather than believe this adult who had some minor insight into my character, whenever I looked at this piece of paper, I'd start typing. And one day, I typed a screenplay that changed my life.
So as we head into #2017 remember: nobody writes your story but you. This year, write the shit out of your story. Don't let someone else define your future for you: sing your song and show 'em what you're made of. Happy New Year, everybody. Thanks for making the lady wrong..."
Please consider
making a donation
to
Sunny Skyz
and help our mission to make the world a better place.
Click Here For The Most Popular On Sunny Skyz
LIKE US ON FACEBOOK!