Read What 'The Rock' Wrote On Instagram After Meeting A Terminally Ill 16-Year-Old
March 17, 2016
Dwayne "The Rock" Johnson recently spent time with a terminally ill young man who's dying wish was to meet him. He shared a photo of them together on Instagram with an inspiring message about life and gratitude.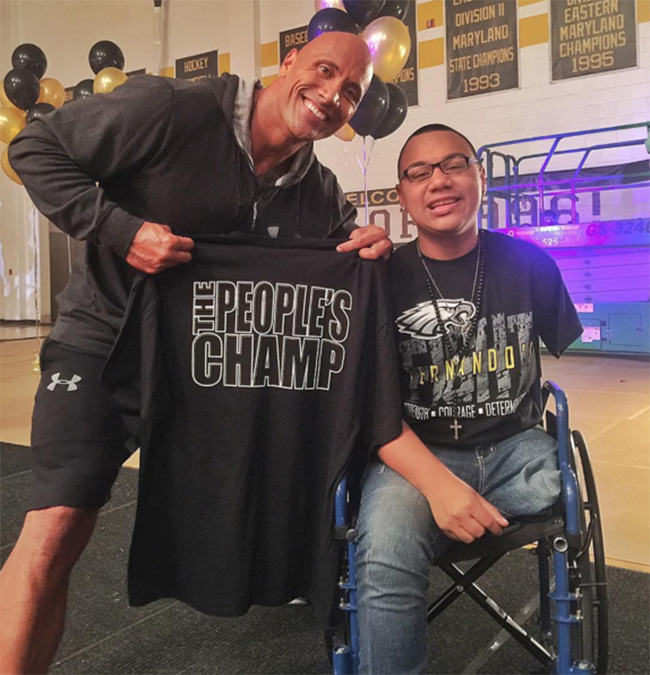 Instagram
He wrote:
"World I want to introduce you to a very special young man. This is 16yr old Fernando. A junior at Coosa High School in Rome, GA.
He was diagnosed with cancer in the 6th grade.
That same year his left leg had to be amputated, and by his 9th grade year he had to remove a tumor due to cancer spreading.
Oct 2015 his left arm was amputated due to a tumor found in his upper arm.
On Feb 24th, 2016 Fernando got word that cancer had spread to his left lung and this would be his final fight.
One of his final wishes was to meet me.
We did just that this past Saturday, on my set. In Atlanta, GA.
This kid's perspective on life knocked me off my feet. Smile on his face, funny as hell, sincere and calm. Easily one of the coolest kids I've ever met and a meeting I'll never forget. Finally got to bed that night 'bout 3am and thought about my meeting w/ Fernando. Thought what a powerful reminder to be as grateful as we can be, love the heck outta our family and friends and squeeze every bit out of life possible, 'cause we never know what's around the corner.
Fernando had a special shirt made for me. On the front reads 'Fernando's Fight. Strength, Courage, Determination' and on the back, 'The People's Champ.' He embodies every word on that shirt - especially The People's Champ. That's exactly what you are buddy, a Champion of the people, by inspiring all those around you. Including me.
Stay strong and thank you for blessing me with your time. Your bud ~ DJ
Ps.. tell your boys I had fun talkin' trash w/ em. Next time I see any of 'em I'm whuppin' that ass."
Please consider
making a donation
to
Sunny Skyz
and help our mission to make the world a better place.
Click Here For The Most Popular On Sunny Skyz
LIKE US ON FACEBOOK!