Soccer star vows to pay youth fan's medical bills
May 15, 2012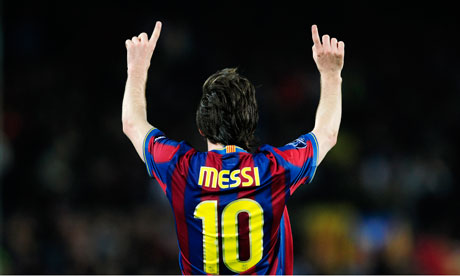 Lionel Messi, whom most consider to be the best soccer (I know it's really "football" but we will use soccer instead since we're in the US) player in the world, vowed to pay for 12-year-old Waleed Kashash's medical bills treating his rare condition, growth-hormone deficiency.
Messi suffered from the same condition as a child. He was fortunate enough to have the premier soccer club Barcelona F.C. pay for him. You would understand why if you ever saw Messi play the game. He truly has a gift like no one else, and his talent showed at such a young age. Barcelona was not going to let medical expenses stop him from superstardom.
Waleed also dreams of being a soccer star. His only fear is that the medical expenses will keep him from pursuing his dreams.
When Messi was informed about Waleed's condition, he did an amazing act of kindness. He took a photo of himself with Waleed's t-shirt, wrote him a personal message to be strong, finishing it with an autograph.
For a lot of fan's that would be enough. Think about it, a superstar athlete that you look up to sending you a picture with a personal message and signing it? Yes, that would be enough for me. Messi took it to the next level.
The medical expenses are estimated to cost around $50,000. It is nice to see the stars giving back to the fans in appreciation. After all, without the fans, where would these stars be?
The only question remaining is this...will Waleed be the next Lionel Messi? One can only hope we can see Messi's ability shine in another.
Lionel Messi is only 24 years old, which means he has plenty of years to go playing the game so many people love.
Please consider
making a donation
to
Sunny Skyz
and help our mission to make the world a better place.