Teenage Employee Supports Breastfeeding Mom When Customer Complains
July 2, 2014
Stories about mothers who breastfeed in public tend to end in all sorts of negativity, so it's refreshing to hear about a mother whose decision to nurse in public led to acceptance and support.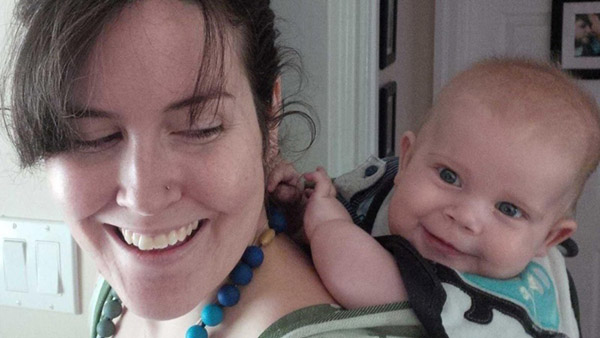 Photo credit: Julia Wykes / Via SheKnows.com
Ontario mom Julia Wykes never thought someone would complain about her nursing in public. As she waited for a drink at Starbucks, another customer proved her wrong.
Wykes brought her 5-month-old baby to Starbucks early in the morning. She'd planned on getting a drink to go, but her little boy became fussy so she sat down for a moment to tend to him. There weren't very many seats available, so the one she chose was close to the cash register.
And out of the blue, a customer went to the front counter to complain — about her.
"Could you get that woman to stop doing that in public? It's disgusting."
And after the barista looked over and told the woman he'd take care of it, Wykes began bracing herself for an argument.
Instead of telling her to cover up or leave, the young man approached with a smile on his face and offered Wykes a free refill. He also gave her a voucher for a free drink the next time she stopped in. He apologized that she had to deal with such unpleasantness, and the complaining customer left in a hurry.
Thrilled at the turn of events, Wykes quickly shared her story with Starbucks and a friend in her local attachment parenting group — who also happens to run the very popular website and Facebook page, PhD in Parenting.
"At first I was flabbergasted by the woman's response to public breastfeeding," says Wykes. "To have a young man be more kind and informed than a middle-aged woman who may have had children herself was a shock. And while it may be a huge multinational company, I am glad that such a positive experience occurred in a Starbucks, it shows that they employ good people."
"I just hope that experiences like this can show women that nursing in public is normal. If you are hungry when you're running errands, you eat," Wykes says. "Why should we think that our babies are any different?"
Via SheKnows.com
Please consider
making a donation
to
Sunny Skyz
and help our mission to make the world a better place.
Click Here For The Most Popular On Sunny Skyz
LIKE US ON FACEBOOK!