Off-Duty Air Force Hero Rescues Fallen Hiker On Yosemite's Half Dome
October 7, 2023
An off-duty hero from the U.S. Air Force leapt into action to save a fallen hiker with severely injured legs on the slopes of Yosemite's iconic Half Dome.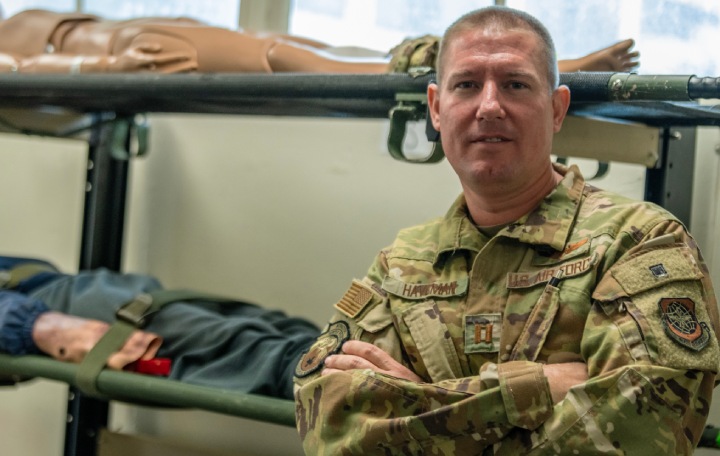 Capt. Joshua Haveman / Credit: U.S. Air Force
Capt. Joshua Haveman, a flight instructor with the 60th Air Evacuation Squadron, demonstrated exceptional courage and resourcefulness during an off-duty rescue in Yosemite National Park.
The dramatic rescue unfolded on September 2, 2023, during Haveman's final ascent of Half Dome, a formidable peak towering at 8,842 feet. The incident began when a fellow climber fell approximately 60 to 80 feet, coming to rest precariously on a narrow ledge suspended over an abyss of more than 8,000 feet.
"I knew people were in trouble as soon as I reached the summit," Haveman said. "It was cold and windy, and climbers were struggling to descend along a slick metal cable on even slicker granite. I dropped my backpack, grabbed my medical kit, and headed towards the commotion. Just then, I heard a scream and saw a climber sliding down about 80 feet, landing on the only spot that could have saved him—a 6-foot by 1 1/2-foot ledge, preventing a fall of 500 to 1,000 feet."
Without hesitation, Haveman took action. Despite the harsh winds and hail, he ventured outside the permanent cable barriers to reach the injured climber. His climbing expertise and extensive medical training were indispensable in this life-threatening situation.
Haveman recalled the scene, stating, "The climber's legs were badly injured, so I collected sticks from the sub-dome and began climbing onto the ledge. Other climbers were concerned for my safety, but the injured climber was in excruciating pain, so I left the cable area and joined him on the ledge."
Using makeshift splints crafted from sticks, Haveman provided essential first aid by stabilizing the tibia/fibula fracture and wrapping the injured ankle with an ace bandage. To shield the climber from the elements and apparent shock, Haveman selflessly covered him with his jacket.
Moments later, a Search and Rescue Park Ranger arrived, and Haveman seamlessly transitioned into a supporting role. Together, they facilitated the patient's descent using a cable ladder, administered further critical medical treatment, and provided care for shock.
Ultimately, the climber was airlifted to safety via helicopter, receiving the urgent medical attention required. Haveman's swift and selfless actions prevented what could have been a tragic outcome.
Please consider
making a donation
to
Sunny Skyz
and help our mission to make the world a better place.