A Slice Of Pizza And Facebook Create A Heartwarming Philly Love Story
October 5, 2023
In a heartwarming twist of fate, the bond between two Philadelphia Eagles fans was forged over a simple slice of pizza, proving that sometimes, love can take flight when you least expect it.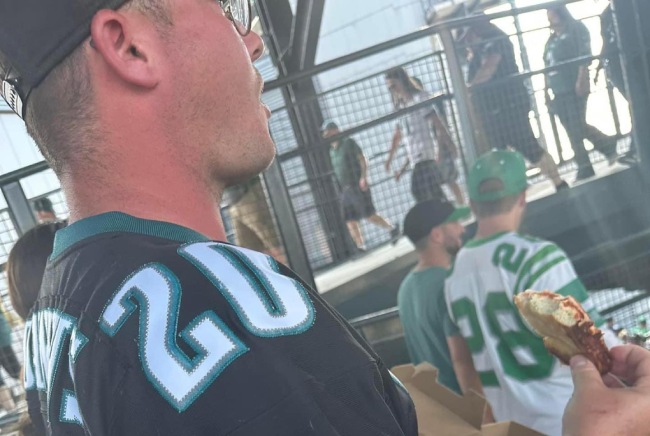 Facebook
It all began at Lincoln Financial Field on a Sunday when the Eagles secured a thrilling victory against the Washington Commanders.
Aliza Phillips, hailing from South Philadelphia, found herself in a crowd of fellow fans, where an unexpected encounter unfolded. She noticed a fan indulging in a slice of pizza and asked him for a bite. In that fleeting moment, as the two shared that slice of pizza, a connection was made that would soon captivate the hearts of many.
Determined to reconnect with her pizza-sharing savior, Aliza took to Facebook, posting a photo (above) that displayed only a side profile of the mysterious and generous Eagles fan.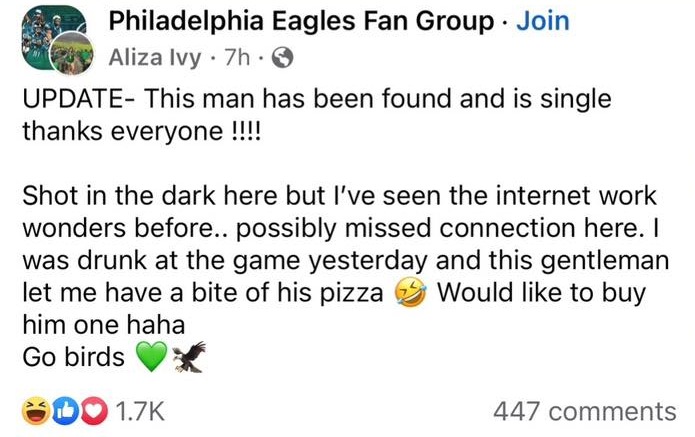 Facebook
The post read: "Shot in the dark here but I've seen the internet work wonders before...possibly missed connection here. I was drunk at the game yesterday and this gentleman let me have a bite of his pizza. Would like to buy him one."
As the power of social media began to work its magic, the mystery man was identified as Aaron Jones of Phoenixville, Pennsylvania.
"My friend Kelly who I was there with, she texted me at 9:42 on Monday and I think Aliza had posted it around 9 a.m. And Kelly said hey the girl that you fed that pizza to is looking for you. And I said no way," Aaron said. "She sent me a screenshot of the post and I said OK she is looking for me. That is awesome."
Aaron immediately reached out to Aliza on Facebook messenger.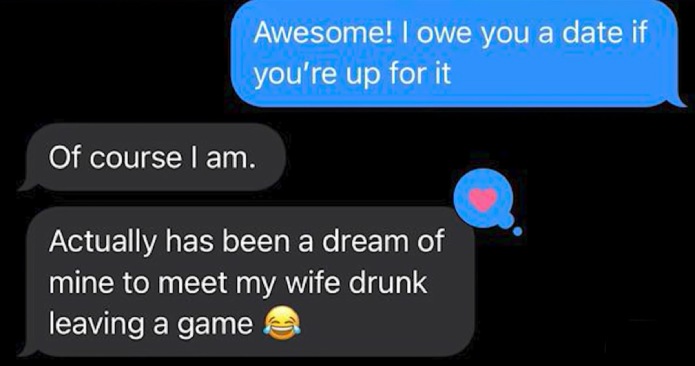 Facebook
Last night, the two had their first official date at the Phillies playoff game against the Miami Marlins.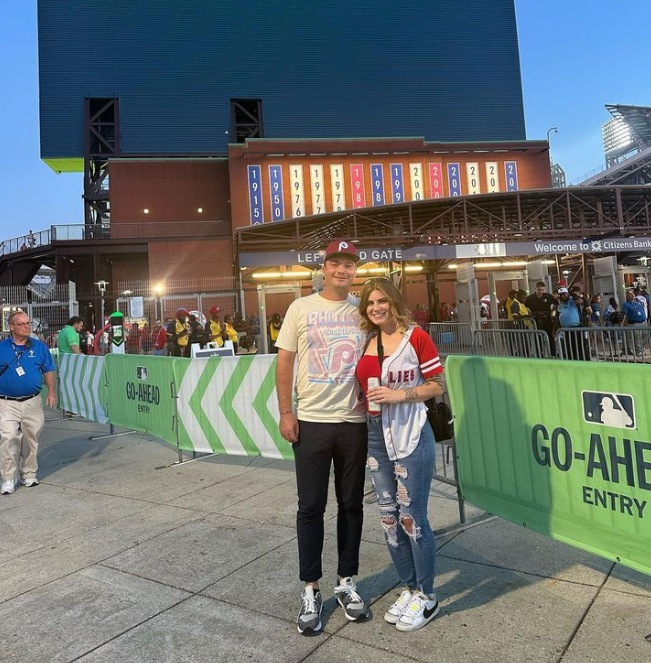 @howimetyourfather215 / Instagram
In the spirit of their serendipitous encounter, Aliza and Aaron have even created an Instagram account together with the caption "How I met your father 215 Eagles edition."
More than 4,000 Instagram users are currecntly following their love story.
"I'm a Cowboys fan but here I am following the love story of two Eagles fans," one commenter wrote.
"Following from Ireland because this is just bloody fantastic," another user said.
"Bears fan here. This is more promising than my team so I am here for it," another wrote.
Their journey of love, sparked by a slice of pizza and shared through social media, is a testament to the unexpected and beautiful ways in which connections are formed.
Please consider
making a donation
to
Sunny Skyz
and help our mission to make the world a better place.