Mail Carrier Rushes Snake-Bitten Dog To Vet, Alerts Family Via Doorbell Cam
October 5, 2023
A postal worker in Georgia has emerged as an unexpected hero by saving the life of a dog who was bitten by a venomous snake.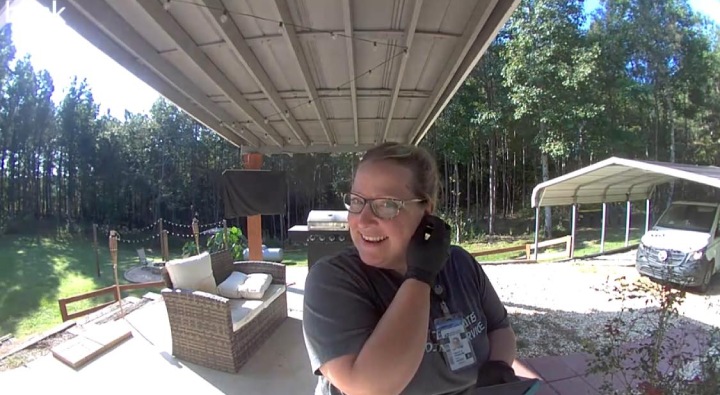 Holle / Credit: Kelsey Proctor on Facebook
Holle Prigmore, an avid dog lover, delivers mail for the US Postal Service in Haralson County, Georgia. The highlights of her shift are the dogs she encounters along her route.
"I have a motto that not every dog likes me right now, but when I'm finished with them, they will," Prigmore told Fox 5 Atlanta.
However, one particular encounter took a frightening turn last Friday when she noticed Ginger, a black beagle mix, limping by the roadside. She discovered that Ginger had been bitten by a snake, later identified as a copperhead.
Using the homeowner's doorbell camera, she wrote a message on her phone to notify them of the situation and promptly rushed Ginger to a veterinarian.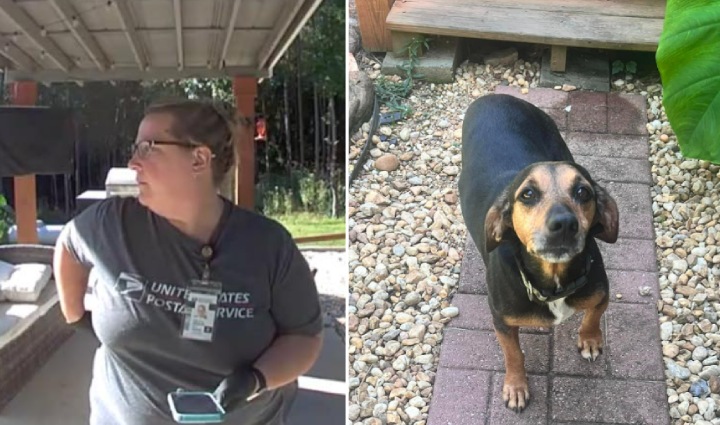 Holle and Ginger / Credit: Kelsey Proctor
Owners Kelsey and Aaron Proctor shared a heartfelt tribute to Prigmore on Facebook as they described what had happened and asked friends to help them identify their hero.
She wrote: "Haralson County/Buchanan friends: I am looking for the name of this post office worker. I see her badge but it's too blurry for me to read. Our dog, Ginger, was bitten by a copperhead snake today while we were at work.
This sweet woman took our girl to the vet and left us a note on her phone in our camera to see. I know someone out there has to know her. I want to thank her from the bottom of my heart. Thankfully, Ginger is going to be okay, and I truly believe it's because of this woman. Help me find her!"
The post circulated quickly within the area, and Prigmore was identified as the postal worker who had saved the day. She even commented on the Proctors' post, "My absolute pleasure to help. Ginger is a doll baby."
"I just think that speaks a lot about her and her character that she was so willing to jump in and help out when she didn't know anything about us," Kelsey said, emphasizing the compassion and selflessness displayed by Prigmore.
Kelsey had the chance to meet and personally thank Prigmore for her heroic actions on Wednesday. As for Ginger, she is doing well. She's still a little sore from the bite but hasn't had any major issues since she received treatment.
Watch the good news video below.
Please consider
making a donation
to
Sunny Skyz
and help our mission to make the world a better place.