Elderly Dog Risks It All to Protect Fur-Brother From Coyotes
June 1, 2023
A senior dog with only a few teeth saved the life of his fur brother in a California neighborhood.
Meet Vinny and Harley.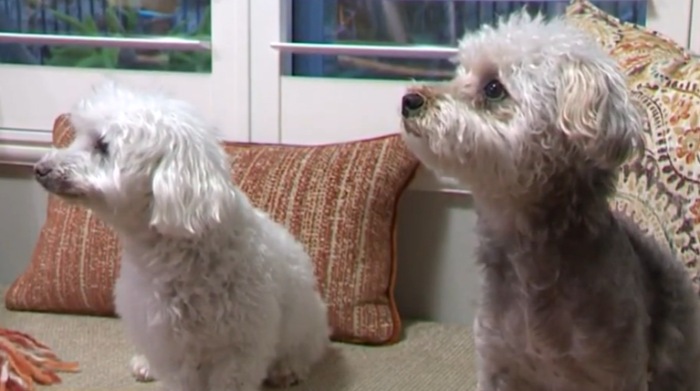 Vinny and Harley / Credit: CBS News Los Angeles
Vinny is an 11-year-old, 10-pound Maltese mix. Harley is a 12-pound Morkie and much younger than Vinny.
Surveillance video captured the moment Vinny scared away a coyote as it was attacking Harley.
**Warning: the sound may be disturbing to some viewers**
According to the owners, Harley heard something in the backyard and ran outside. He was confronted by two coyotes.
Upon hearing Harley yelp in pain, Vinny ran straight toward his little brother, growled, and chased after the coyote.
"I think he had a low-level growl that shocked the coyote," said Macaluso.
The coyotes took off and Harley was rushed to the hospital for several bite wounds. He ended up with 20 stitches but made a full recovery.
"We are super vigilant dog parents," owner Erin Macaluso said. "We have lived here for 30 years in the same house, we have always had small dogs, and we have had cameras most of that time. We have never seen a coyote in our backyard until that night."
"Our little HERO Vinny is 10 lbs, 11 yrs old, and only has 3 teeth! But he's always been scrappy," she said. "Vinny was a rescue dog we adopted from ECPR (Emerald City Pet Rescue) back in 2014. Thank you ECPR for my little hero!"
Watch the good news video below.
Please consider
making a donation
to
Sunny Skyz
and help our mission to make the world a better place.