Sea Turtle Populations On The Rise In U.S. Gulf Coast
August 8, 2022
Sea turtle populations are on the rise in the Gulf Coast of the United States.
Beach crews have found the first sea turtle nest on the Mississippi mainland in four years. Georgia's endangered sea turtles are being fruitful and multiplying in record numbers. And for the first time, the world's rarest species of sea turtle has laid eggs on Magnolia Beach in Texas.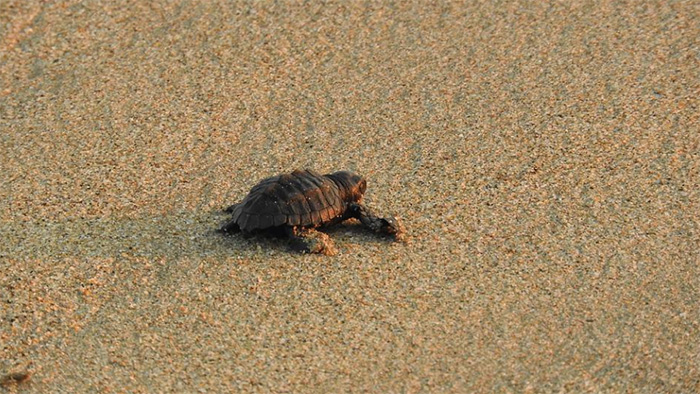 A Harrison County Sand Beach crew that was cleaning up found turtle tracks just east of the Pass Christian Harbor on the Mississippi Gulf Coast.
They protected the area and called the Institute for Marine Mammal Studies in Gulfport, which followed the tracks to a nesting site that is now marked off with stakes and tape.
The eggs likely belong to a protected loggerhead sea turtle or an even rarer Kemp's ridley sea turtle, which is the most critically endangered species of sea turtle, said Moby Solangi, president of the marine studies group.
This is the first sea turtle nest on mainland Mississippi since 2018.
This week, Georgia officially hit its record for sea turtle nests, with 3,966 nests recorded, according to a news release shared with CNN from the Jekyll Island Authority's Georgia Sea Turtle Center.
Jekyll Island was a particular hot spot for sea turtle nests this nesting season: There were 236 sea turtle nests recorded on the island, the highest ever recorded, the news release explained. And more than 6,000 baby loggerheads have hatched from those nests.
The nesting loggerhead sea turtle population in Georgia has increased by around 4% each year since the 90s, says the Georgia Sea Turtle Center.
Last week in Texas, Calhoun County Marine Extension Agent R.J. Shelly received a call from the county commissioner after maintenance workers noticed sea turtles hatching from a nest on Magnolia Beach.
The baby turtles were identified as Kemp's ridley sea turtles, the smallest and most endangered sea turtles in the world.
"As far as we know, there's never been a Kemp's ridley nest on Magnolia Beach, ever," Shelly told CNN.
"We watched several of the turtles hatch in front of our eyes," he said. ""I've been working on the bay for 31 years, and I've never seen a sea turtle nest hatch."
The Gulf of Mexico is an important habitat for sea turtles, but the 2010 oil spill really hurt the population.
"After all the environmental disasters we've had, this is a good sign. When (turtle populations) have gone down, it means the ecosystem that supports them is having difficulty. When animals start breeding, it means things have started to get better," said Solangi.
Please consider
making a donation
to
Sunny Skyz
and help our mission to make the world a better place.
Click Here For The Most Popular On Sunny Skyz
LIKE US ON FACEBOOK!