A Drug Addict Stole His Dog, So He Offered To Pay For Her Treatment
July 8, 2021
When a man found out his beloved dog was stolen by a remorseful drug addict, he didn't call the police -- he offered to pay for her rehabilitation.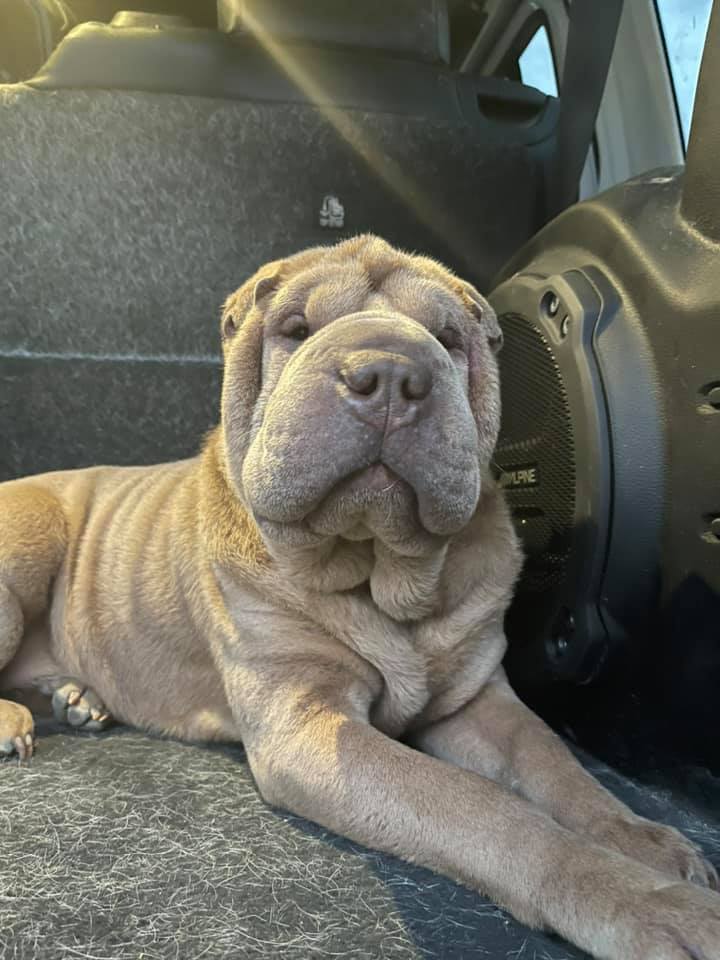 Darla | Credit: Brayden Morton
Brayden Morton of Cranbrook, B.C., first posted on social media that his Shar-Pei, Darla, was taken from his yard in an old blue pick-up truck back in June.
The post was shared around 30,000 times.
He offered a $5,000 reward, so his phone started blowing up with people trying to help.
Then he got a call from a blocked number. When he answered, all he could hear was what sounded like a young woman crying, but something in his gut told him this person had Darla.
"She wasn't talking yet, I could just hear her crying and I said to her 'listen, I'm not mad at you, I'm not anything,'" Morton said. "'I've messed up a lot in my life. Let me go home, I'll grab the cash reward for you and I will come meet you. Where do you want to meet?'"
He met the young woman at a mall parking lot and knew right away that she was addicted to drugs.
"As soon as I saw this young girl I knew she was addicted to drugs," he said. "I walked up to her and gave her a hug and told her it was alright and I wasn't mad because I understand what she's going through all to well. I am a recovering fentanyl addict who has been in recovery for just over six years and I am a Drug and Alcohol Interventionist now.
I was living the exact same way as she was six short years ago. I told her about my past and how messed up I was we talked for about 20 mins she told me she didn't want the reward money she just couldn't live with herself for taking Darla. She knew how many times my post had been shared and felt like shit about what she assisted in. I asked her if I could pay for her to go to treatment and this poor young girl and I just cried together and she finally said yes."
In addition to the woman who returned Darla to him, there was another person whose path crossed with Morton as a result of this ordeal: the man in the blue truck.
Morton found him, but learned he had nothing to do with it.

Brayden with the man he helped
"I had to pull over and talk to him as I felt bad for my reaction when I initially found him. He was trying to sleep in his truck and had two dogs with him. I told him I apologized for the way I acted and I'm sorry for accusing him. He started telling me about the way his life has gone the past few weeks and how he ended up homeless and in Cranbrook. I gave him a hug goodbye and was leaving. When I was driving I knew I couldn't leave him there with those dogs outside. I went back and told him to follow me and I went and got him a hotel for a week. We went and got him and his two dogs in a room. The pic above is myself and him."
Then, after seeing Morton's Facebook post describing this whole encounter, a total of five friends offered to chip in and got him another week.
They also helped get him set up with a job, and he had his first day shortly after.
"I would say honestly, more than anything it was humbling and it was exactly what I needed in my life at that point in time, those people helped me immensely," Morton told the Cranbrook Daily Townsman. "Those people don't know what they did for me too. I have some personal stuff on the go and those people really warmed my heart and humbled me."
Please consider
making a donation
to
Sunny Skyz
and help our mission to make the world a better place.
Click Here For The Most Popular On Sunny Skyz
LIKE US ON FACEBOOK!