Students With Down Syndrome Crowned Homecoming Queen and King
October 12, 2013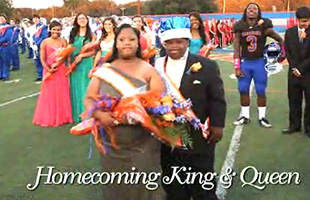 At West Orange High outside Orlando, two high-school seniors with Down syndrome have been elected homecoming king and queen by their classmates.
It's the first time anyone in the Orange County School District, the 10th largest in the nation, can recall special-needs students in the running for king and queen.
"We love you, Bubba!" a group of girls screamed as Travjuan "Bubba" Hunter waved from his perch in the Homecoming Parade.
To his date, Semone Adkins, they yelled, "Semone, you look beautiful!"
The cheers came not just from friends and family on the sidelines, but from the Gridiron Girls who support the football team, from the girls Lacrosse team, from the service club, the local merchants and even a few of the police officers.
"He has always been loud and proud — how can you not love that?" said Cindi Brasch, an adaptive P.E. teacher at West Orange. "But he's a very polite, very well-mannered young man who just likes everybody."
The feeling seems to be mutual.
"Oh, everybody in town knows Bubba," said Michelle Cavanzon, a teacher's aide who works with Hunter and Adkins. "I swear he could run for mayor — and probably win."
Short and stocky, he makes up in personality what he lacks in physicality.
"This didn't happen because we feel sorry for them or something," said Hayden Griffitts, 18, the football team's quarterback — and in the running himself for homecoming king. "Just the opposite. They really deserve it. I mean, homecoming is about bringing people together and having fun. And that's what they do."
Griffitts' biggest dilemma this week: whether to vote for himself or Hunter.
New-found fame
At the beginning of the week, Semone Adkins was a relative unknown to a lot of kids. Maybe they'd seen her around, maybe caught a glimpse of the coy smile, but her election has brought fame — or what passes for it in high school.
Then came Monday night's talent show, a competition for all six couples elected to homecoming court. Adkins was dancing to Beyonce's "Single Ladies," enticing her beau to "put a ring on it." In practice, she'd been reluctant.
Until they gave her a microphone.
Maybe it was the music videos she had seen. Maybe it was natural talent. Maybe it was the pressure of the spotlight and a live audience. But the sometimes-shy, sweet young thing transformed into a strutting diva who extended her hand with all the attitude the song demanded.
Hunter strolled out in shirt and tie, dropped to one knee, and when he placed the ring on her finger, the crowd in the school's auditorium rose to their feet in wild applause.
"I cried the whole time," said Janice Morgan, Hunter's mom. "I was so proud of him."
Common bond
Her son, like Semone Adkins, nearly didn't make it into this world.
The boy was born at just 23 weeks, weighing in a few ounces shy of 3 pounds. He would spend nearly two months in the neonatal intensive care unit before doctors let Morgan bring him home. His father, learning that he had a son with an intellectual disability, left.
By preschool, though, Morgan's biggest challenge was her son's propensity for hugging and kissing everyone he encountered — girls and boys alike.
"We worked on that forever, because he was about to get in trouble," Morgan said. "I told him, 'You can't just love on everybody.' "
For Karen McNeil, the pregnancy with Semone was marked by angst. McNeil already had lost a daughter to cancer when the girl was 3, and she didn't think she could bear it if anything happened to another child. So when she began hemorrhaging during the birth, she struck a deal with God: "If you let me live," she prayed, "I promise to love her with all my heart and take care of her no matter what."
Immediately, she said, her blood pressure began to come back up.
Today the two families live around the corner from one another. Their children have attended classes together for more than a dozen years. The kids have always been sweet on each other.
"The biggest factor in them being on the homecoming court is just them," said Amy Van Bergen, executive director of the Down Syndrome Association of Central Florida, who knows both families. "They're engaging, they're genuine and they're getting back exactly what they're giving out, which is their kindness. It's just reflected back to them."
The community has embraced the couple too. Men's Wearhouse donated his tuxedo. Dillard's donated her dress, Ulta donated her makeup and Cavanzon and fellow teacher's aide Rhonda Smith donated her shoes and accessories.
"I didn't have to ask anyone twice," Cavanzon said.
Now everyone knows
A decade ago, something like this probably wouldn't have happened, the adults agree. Kids may be no less cruel in general these days, but they are given more opportunities to meet people different from themselves. Special-needs students — once not even educated — have largely moved from separate facilities or tucked-away classrooms to being a part of campus life.
In the cafeteria these days, fellow students, jocks and even a couple of the deans, take turns arm-wrestling Hunter. The crowd chants "Bub-ba! Bub-ba!" as he dispatches his challengers with great celebration, flexing his muscles in victory and shouting, "Who's the man?"
It has become a lunchtime ritual.
"It just started one day last year during baseball season," says center-fielder Tyler Hartman, a fellow senior and homecoming king contender. "Bubba and I talk every day now. He just makes everyone's mood better because he's a fun guy."
Their teacher, Jim Mattingly, has worked with the couple all four years, leading them in both education and vocational training. These days, he's like a proud father.
"I've always known how incredible they are," he said. "But now everyone else at the school does too. They got the platform and they ran with it."
---
Good News Source: Orlando Sentinel, Copyright © 2013, Orlando Sentinel
Please consider
making a donation
to
Sunny Skyz
and help our mission to make the world a better place.
Click Here For The Most Popular On Sunny Skyz
LIKE US ON FACEBOOK!