Man Tweets 'I Am Not Ok' And People Around The World Rally To Show Their Support
October 20, 2020
An unemployed father of two put out a call for help on Twitter and within hours he received thousands of messages of support.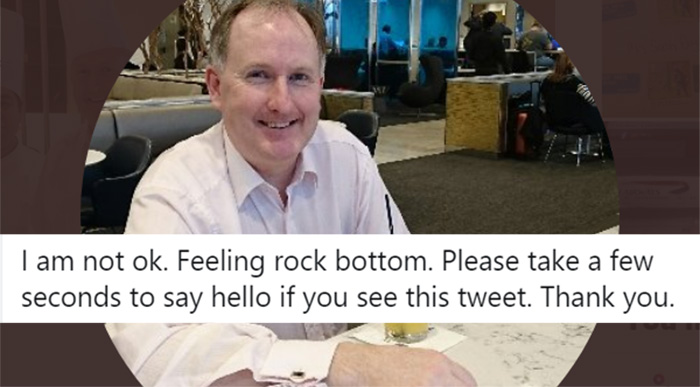 Edmund O'Leary, from South East England, tweeted on Friday night: "I am not ok. Feeling rock bottom. Please take a few seconds to say hello if you see this tweet. Thank you."
Within minutes Twitter users from around the world were responding with messages of support and words of encouragement -- including offers to help him with his CV, invitations for coffee, artwork from kids, pictures of pets and funny memes to cheer him up.
Hi Edmund from Florida. I admire your bravery for just speaking up and being so open. Not many can. Here's a photo of my attempted "lamb cake" A few Easters ago. If anything, I hope it makes you laugh. Much love. pic.twitter.com/i33QDeuZxj

— Jennifer Holton FOX 13 (@jennholtonFOX) October 17, 2020
So beautiful. Sending you love & strength. ❤️My sister who passed away sends me butterflies to let me know she's still with me. This particular one showed up on my birthday, and proceeded to climb up my arm and onto my face where it stayed for a long time while I cried. 🦋 pic.twitter.com/AOhbHEDa1q

— 🦇Feardalump (@ferdalump) October 17, 2020
Hi Edmund. I bought my mom two kittens after her beloved cat of 19 years died. Here's one of them, Lulu, playing. Things get better. They always do. pic.twitter.com/RK7ybWIWQk

— Jake Tapper (@jaketapper) October 17, 2020
In the words of Franklin D. Roosevelt, "Smooth seas never made a skilled sailor." Life can be hard for all of us at times, but overcoming challenges is what makes us stronger. Nothing worth having comes easy, so keep fighting! All the best mate x pic.twitter.com/6DqSXRbNKV

— Brian Blessed Jr. (@simonsaysfukoff) October 19, 2020
Hi Edmund, you are not alone. So many people are feeling exactly that way at the minute. Never forget that you are loved & there are people who care about you. We see you like 747s; here's one just for you, along with a picture of dawn in Dublin. Sending you hugs from back home. pic.twitter.com/x2TyI06uD7

— Dublin Airport (@DublinAirport) October 17, 2020
O'Leary replied to many people expressing his gratitude -- but has been unable to get back to them all.
His post received more than 76,000 comments.
Keep going, Edmund!
Please consider
making a donation
to
Sunny Skyz
and help our mission to make the world a better place.
Click Here For The Most Popular On Sunny Skyz
LIKE US ON FACEBOOK!