Teenage Son Of Mugger Tries To Make Amends With Recent Victim
September 11, 2013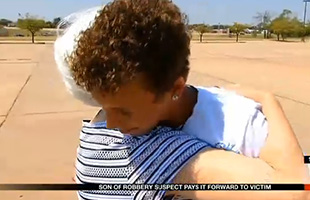 A Moore teenager tried to turn his dad's wrong into a right. Christian Lunsford, 15, wanted to meet his father's mugging victim to try and make amends.
The victim, Tona Herndon, agreed to meet the teenager on Sunday afternoon. Christian wanted to give her some cash that he recently received from his dad. But the meeting took an unexpected turn.
Tona says she is still reeling from what happened to her last month at the Bethany Cemetery. She had just buried her husband of 60 years and was visiting his gravesite, when she was mugged.
"As the purse came off, I looked him right in the eyes and there was a look in his eyes," Tona remembers. "It was a look of pain and my thought was 'He doesn't really want to do this.'"
But police say that's exactly what 39-year-old Shane Lunsford did and his teenage son, Christian, wasn't surprised.
"We were on our way to Tulsa to visit some people and I got a call from the county jail," Christian said. "I didn't answer it, but I kind of suspected who it was because this isn't the first time."
Christian says his father has been in and out of prison several times during Christian's childhood. He says the two weren't close, but said his father recently gave him some cash to use toward a band trip.
"When I found out this whole situation, I didn't know if it was hers or his or how, I just knew I needed to give the money to her," he said.
So the two families met at the First Baptist Church of Moore, where Christian, his mother, stepfather and two sisters are members. It was here that Christian wanted to meet Tona face-to-face and apologize for his father's actions and give her the $250 he received from his father.
"This is a very blessed family," Tona said. "I thank them so much for what they wanted to do, to make things right. That was wonderful."
But the ending didn't go as Christian had planned, when Tona immediately returned the cash to him.
"I was very surprised actually," Christian said. "I didn't expect that at all, but it meant a lot."
Tona said Christian's gesture meant more to her than the cash.
"He gave and I received, and I gave and he received, so it worked out," Tona said.
As for Christian, he will use the money, as planned, for a band trip this fall.
---
Source: News9.com
Please consider
making a donation
to
Sunny Skyz
and help our mission to make the world a better place.
Click Here For The Most Popular On Sunny Skyz
LIKE US ON FACEBOOK!