Chic-Fil-A Employees Rescue Family From Storm
January 19, 2020
The internet is full of stories of Chick-fil-A employees going above and beyond to serve their customers.
An Alabama woman's recent Facebook post about her local Chick-fil-A has been shared more than 14,000 times.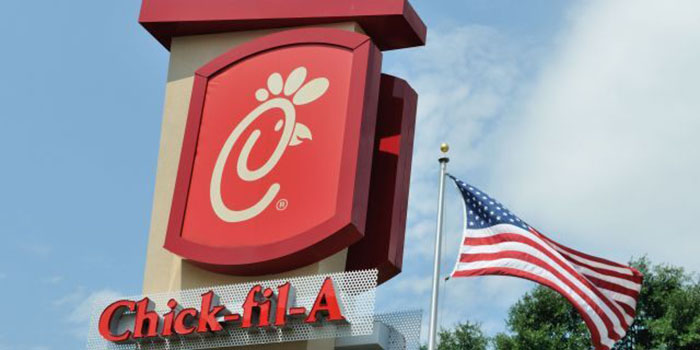 According to the post by Lauren Langley, two Chick-fil-A employees rescued her and her sons from their car in the middle of a heavy storm and offered them shelter in the restaurant.
This is what she wrote:
"Wowwww. (Long post) I have to share this because it was literally the most scary minutes of my entire 33 years, and also because I have to give credit where credit is due.
The boys and I went to Walmart to grab a few things before the storms hit. When we left Walmart, it wasn't storming, or raining, or even windy.
We went across to Chick Fil A drive thru to get lunch and ice cream. I started my order and the heaviest wind, darkest clouds, and heaviest rain I've ever seen came out of nowhere and very fast too. I stopped mid order, rolled my window up and pulled over into a parking spot.
By that time, my car was literally shaking side to side, I couldn't see out the window, there was LOTS of lightning strikes hitting around us, the trees were bending completely in half around us, the boys were SCREAMING, and I for the first time since I became a mother, felt completely clueless and helpless on what to do. I didn't know what was going to happen next, and I'm still not sure what exactly we experienced, whether it was just severe straight line winds or an actual tornado/wall cloud above us that didn't touch down.
Just then, 2 Chick Fil A employees ran up to my window and told us to get inside. I grabbed both boys and ran as fast as I could inside the building. Running against wind and rain that strong was insanely hard and we looked like we had been swimming when we got inside. They let us take shelter in their kitchen area and provided towels for us to dry off with.
After the worst of the storm passed, we came out and they asked if we wanted to order. It was still pouring and I told them my debit card was in the car so id go back through the drive thru.
They generously offered us our lunch and ice creams for free.
What amazing customer service and genuine care from all of the employees there. From them running to my car to get us, to letting us take shelter, giving towels to us, and then our lunch on them....I already thought Chick Fil A was the best, but they exceeded the best service today!
I am so thankful that we are safe, and I hope that's the boys first and last 'tornado story' that they have to experience!"
Please consider
making a donation
to
Sunny Skyz
and help our mission to make the world a better place.
Click Here For The Most Popular On Sunny Skyz
LIKE US ON FACEBOOK!