Texas boy raises $16,000 for Oklahoma tornado victims by mowing lawns in sweltering heat
August 14, 2013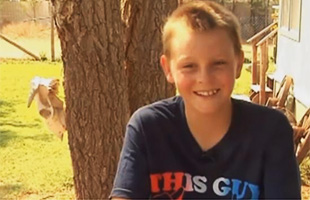 An 11-year old boy has raised $16,000 mowing lawns across Texas, all for tornado victims in Moore, Oklahoma.
"It really feels good," Dyllon Orthman of Dalhart, Texas, told ABC News. "I help them because they need the money, and they help me because it makes me feel good."
Dyllon got the idea from a school fundraiser in June.
"Dyllon's school was raising money for the Oklahoma tornado victims, and Dyllon asked if he could bring in $20 for the fundraiser," his mother, Kristi Orthman, told ABC News.
"I told him that he could make the $20 if he mowed lawns."
That night Dyllon told his mom that he wanted to spend the whole summer moving lawns for donations, she said.
"I have mowed 87 lawns so far," Dyllon said, and he has raised $16,000, according to his mother.
The money has come from mowing lawns and from independent donations. One Oklahoma company donated $10,000 to tornado victims on behalf of Dyllon Orthman, said Dyllon's his mother.
"Every single penny is donated to OK Strong, a disaster relief organization that has partnered with FEMA, which provides aid to the families affected by the May tornadoes," Kristi Orthman said.
"I want to thank everybody who helped me," Dyllon said. "Especially my mom, dad and sister. We had a lot of fun and laughter."
"He's just a wonderful boy," Rose Marie Lopez, Dyllon's grandmother, told ABC News. "He has no idea just how kind he really is."
---
Source: ABC News | Image: WSBTV
Please consider
making a donation
to
Sunny Skyz
and help our mission to make the world a better place.