An Unforgettable Night for Teens with Life-Threatening Illnesses
July 19, 2013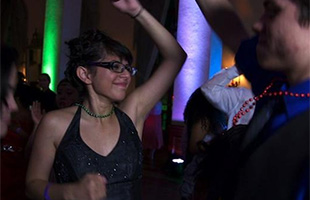 When Fred Scarf was 15 years old, he lost one of his closest friends, Sheri, to cancer. "I felt like I died inside," he said, "and I knew I had to do something big. I was driven." With their plans of going to their high school prom together tragically derailed, he was inspired to throw a prom for teens with cancer. What started out in 2006 as 20 patients having the time of their lives for one special night has now grown to hosting annual proms in five cities. The resulting nonprofit is called No Worries Now, reflecting its mission to immediately improving the lives of teens with life-threatening illnesses. To date, over 3,000 teenagers have attended proms thrown by No Worries Now.
Marta Belcher, the executive director of No Worries Now, emphasizes that "For teens who have been in and out of the hospital the opportunity to let go and dance and celebrate life is a really meaningful experience."
One of those teens is Cecilia "Cecy" Saravia. She was 14 when a regular checkup with her pediatrician for a pain she was experiencing in her spleen resulted in the life-changing news that she had leukemia. "I thought it was a twisted joke," she remembers thinking. "I was a happy, boy-crazy, regular teenager and thought I was invincible. "
She was pulled out of school and spent the next nine months enduringchemotherapy treatments and unbearable spinal taps. Her single mother, Estella, recalls the evening when Cecy came to her and told her she did not want to live anymore — the pain and emotional distress was killing her spirit. "I was told I would hear that one day, but never thought it would come from my daughter." Estella implored her to fight, and promised that if she did, they would beat the disease together and Cecy could graduate from high school and pursue her dreams.
It was during this difficult time that Estella learned about No Worries Now through the children's hospital they were frequently going to for treatment. Cecy remembers thinking, "What if I never get to experience the teenage dream of prom like everyone else?" The opportunity gave her something to look forward to and energized her for the first time in months. The program kicked off with a free dress giveaway, where hundreds of designer dresses are donated to the patients to get ready for the glamorous night. "It was the first time she was going out with friends that were going through the same thing as her," Estella remembers. "And the first time I saw her happy again." Cecy had the time of her life.
Now 18 years old, Cecy has been in remission for just over a year, and has attended three unforgettable proms. This year promises to be no different. What drives her to attend year after year is that she is able to share her story, be an inspiration to others, and prove that they can beat cancer and graduate from high school, just as she did recently in June.
Although the threat of relapse is ever-present for Cecy, during the night of the prom she had no worries: "I feel like a survivor!"
To make a donation to this organization, please visit No Worries Now!
---
Source: Yahoo! News
Please consider
making a donation
to
Sunny Skyz
and help our mission to make the world a better place.
Click Here For The Most Popular On Sunny Skyz
LIKE US ON FACEBOOK!