Waitress Feeds Child After Overwhelmed Mom Asks For Her Dinner To-Go
October 7, 2018
A North Carolina mom shared a touching story about a waitress who refused to let her pack her dinner to-go just because her young daughter was acting up.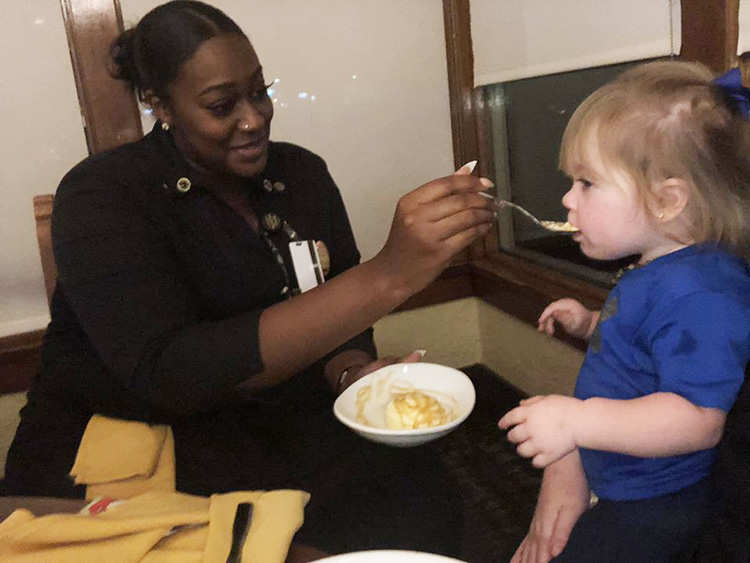 Credit: Courtney Ruth Pedigo
Courtney Pedigo was at an Olive Garden in Greensboro with her daughter Harlynn, who she says was misbehaving. Pedigo asked her waitress, Nianna Rudder, for a to-go box so they could leave without disturbing other guests.
To her surprise, Rudder told her, "No."
Pedigo posted the heartwarming story on her Facebook page:
"Tonight my family and I went out to Olive Garden for dinner, and per Harlynn's usual she did everything but sit in her high chair and eat her dinner like I picture in my dreams. She had me so overwhelmed from letting all of Olive Garden know she was in the house and trying her best to wiggle her way down me to run the restaurant, I had went to find our waitress to ask if she could please bring my food out in a Togo box cause we were going out to sit in the car....She really said 'NO, you're going to go sit down and enjoy your dinner and I will be there to sit with her!' And that's exactly what she did! She brought Harlynn a bowl of ice cream with caramel syrup and even though harlynn wouldn't let her hold her, she sat there in my lap and let Nianni Nani Rudder feed her while I ACTUALLY GOT TO EAT MY FOOD WHILE IT WAS STILL HOTT!!!!!
Girl, you will never truly know how appreciative I am for tonight. I seriously admire you, Not only because you took the time to bribe my bratty little human with sweets so I could eat but because you are so so strong! I know your Mom is looking down from Heaven with the BIGGEST smile and so incredibly proud of the woman you are. I aspire to be the go getter you are and like I told my dad on our way home it has to take someone with a strong heart and mind to do what you do bc I know I couldn't!
Thank you for your amazing service and for being so kind to us all!"
Please consider
making a donation
to
Sunny Skyz
and help our mission to make the world a better place.
Click Here For The Most Popular On Sunny Skyz
LIKE US ON FACEBOOK!