Scientists Reverse Age-Related Wrinkles And Hair Loss In Mice
July 25, 2018
Scientists at the University of Alabama Birmingham claim to have successfully reversed hair loss and wrinkled skin in mice in an unprecedented anti-aging experiment.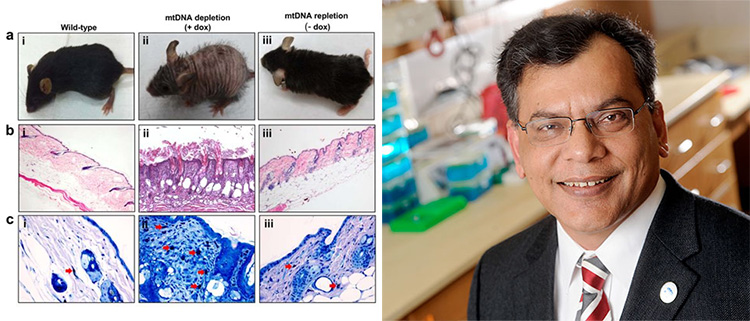 Credit: Nature.com / Keshav Singh, Ph.D.
For some time, scientists have identified a correlation between aging and a decline in mitochondrial function.
The new study began by engineering a mouse model where mitochondrial DNA can be depleted using a common antibiotic trigger. The mice were administered the trigger, resulting in a subsequent depletion of mitochondrial DNA. Within four weeks the mice displayed hair loss and wrinkled skin, all signs of natural aging.
Dramatically, this hair loss and wrinkled skin was reversed by turning off the mutation.
The mitochondrial function was restored by turning off the gene responsible for the dysfunction and the mouse returned to smooth skin and thick fur, indistinguishable from a healthy mouse of the same age.
"To our knowledge, this observation is unprecedented," said Keshav Singh, Ph.D., a professor of genetics in the UAB School of Medicine.
"This mouse model should provide an unprecedented opportunity for the development of preventive and therapeutic drug development strategies to augment the mitochondrial functions for the treatment of aging-associated skin and hair pathology and other human diseases in which mitochondrial dysfunction plays a significant role."
The scientific paper "Reversing wrinkled skin and hair loss in mice by restoring mitochondrial function" was published on Nature.com by authors Keshav Singh, Bhupendra Singh, Trenton R. Schoeb and Prachi Bajpai.
Please consider
making a donation
to
Sunny Skyz
and help our mission to make the world a better place.