Beloved Turned In To Sister
By Jay Shukla • September 30, 2013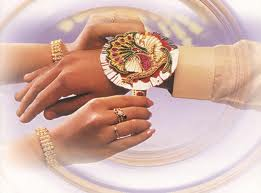 Those were the days when I used to be the student of 8th standard.
I was deeply attracted by one of my classmates named Lavanya.
She was a fair,medium height,cute girl with long black hair.
she was blessed with a pair of beutiful blue eyes as deep as ocean.
she used to be the class monitor of my class and we had a tom and
jerry kind of relationship as I used to be the most talkative and
troublesome guy of the class, though I was the big time admirer of
her beuty or in other words I had my first crush on her. But my
inclination towards her beuty was known to no one else but me only.
as I used to be a shy guy of higher degree I could not express my
feelings for her to anyone of my friend till I was grown up.
And here comes the day....
Like every year this year also My school had decieded to organize
festival of Rakshabandhan a day before the actual festival is
celebrated throught the country. Let me give you a little overview
that Raksha bandhan is a holy festival celebrated by the hindu
community on which the girls tie a silicon thread called rakhi on
the right hand of there brothers and all the brothers promise to provide
them life term security from sin,evil or bad things.
So, All the girls were told to bring silicon threads and boys to bring
chocolates, sweets or gifts to offer to there so called sisters. and
post lunch the holy ritual started. All the girls were standing in one line holding
a rakhi in there hands and all the boys were queued up in other line parallel to
to girls queue with goodies in there hands. I was also standing in same queue
chit chatting with my friends and waiting for my chance to see who is going to be my
new so called sister this year. I was not able to hold my eyes off Lavanya as she
was looking extremely gorgeous in pink salwar suit and standing in the girls queue.
And now here comes my chance and to my greatest disappointment which I had never
imagined even in the worst of my dreams, no one else but one of the cuttest girls
of school, my first crush, my secret love , Lavanya was the one who was in the
queue of girl to tie the silicon thread on my hand to claim to be my next sister
for rest of the life. I had no option but to carry on with ritual as I did not want to make
any bad impression infront of the entire teaching staff. Unwillingly I had to forward
my hand to get tied up with rakhi to become the brother of my own lover and this
is how a love story ended even before it started.
But how can I be such a fool. I used to be good in mathematics and I could have
easly calculated my postion in the queue against her position and could have
easly changed my position. My mathematical skills might have brought a lot of
success in my life but could not save my love to let sacrifice for this bizzare tradition.
And this is how my love story ended even before claimimg a consious presence on this beutifil
planet. And this is How a beloved turned out to be a sister...
PREVIOUS STORY NEXT STORY SHARE YOUR STORY
Please consider
making a donation
to
Sunny Skyz
and help our mission to make the world a better place.
Click Here For The Most Popular On Sunny Skyz
LIKE US ON FACEBOOK!