Vicki And Jason
By Pray For Chase • January 29, 2016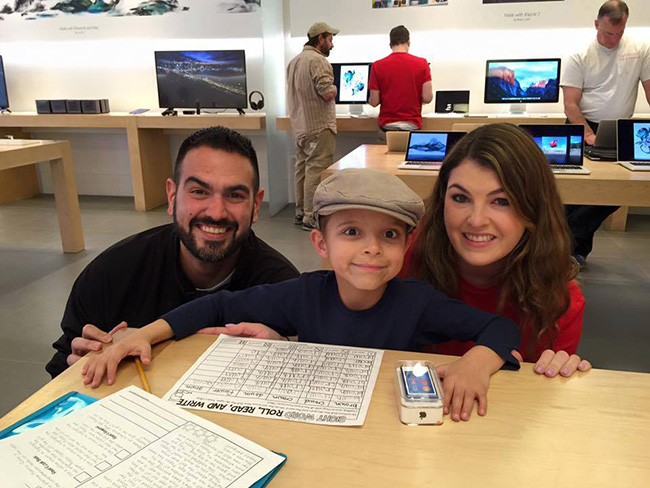 Today my kids and I were in the Apple Store, La Encantada Tucson, AZ. My son Chase was at one of the tables working on his homework while I talked to one of the Apple associates. In the corner of my eye I noticed an associate named Vicki (shown right in the picture) speaking to Chase and I thought it was so nice she took the time to chat with him. I did not think much of it but later when I was talking to the other apple associate the manager Jason Greer (shown left in the picture) came up and said 'excuse me' at the time I thought he needed to talk to the associate that I was speaking with so I said 'thank you for your help' and prepared to leave. Then the manager said, 'I was actually hoping to speak with you.' I was caught off guard and as a mother of two I hoped he would not say that my children had touched something they shouldn't have.
Jason told me that Vicki came to the back to find him in tears to tell him about my son Chase. She said that she was asking Chase about what he was doing and Chase said, 'Oh I am working on my homework. I am in 1st grade and I should be in second grade but I was in the hospital for a year because I have brain cancer and I really want to make sure I make it to second grade next year.' Jason said that it is stories like Chase's that make him love his job because they love to make a difference. He asked if he could give Chase something, I was still in shock and said of course. He handed an iPod Nano to Vicki for her to give to Chase. She was still teary eyed as she handed the Nano to Chase. Chase is super shy so he gently said, 'thank you.' What they did not know is that Chase is OBSESSED with time, it is one of the ways he copes with the anxiety issues he has from his "hospital life." It is his way of knowing what will come next.
In addition he loves music (Queen is his current favorite). Chase has spent ALL night checking the time on his Nano and singing "We will Rock you." They absolutely made his week!!!! Please pass this story on. I hope it somehow finds its way back to Vicki and Jason so they know how much they made an impact on Chase. Thank you from the bottom of our hearts Vicki and Jason!
PREVIOUS STORY NEXT STORY SHARE YOUR STORY
Please consider
making a donation
to
Sunny Skyz
and help our mission to make the world a better place.
Click Here For The Most Popular On Sunny Skyz
LIKE US ON FACEBOOK!