Woman Battling Cancer Couldn't Afford Expensive Blender, And Then This Happened
By Eric Frey III • January 16, 2016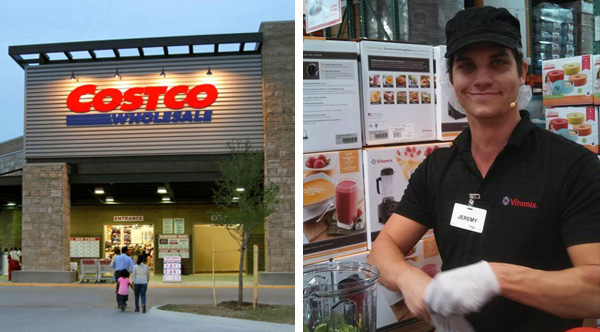 I witnessed a true act of kindness today. The man in this picture, Jeremy, is the sales representative for Vitamix the high dollar ultra-cool mixer/juicer sold at Costco above the $400 mark (including the tax). He spoke with a woman, who was clearly battling cancer and going through radiology (she was wearing the telltale handkerchief over bald head) at length regarding the health benefits of his product when used with fresh fruit and vegetables and they both spoke of the antioxidants and cancer fighting properties of fruits and veggies. It was clear that the woman wanted one but was unable to afford it because of the medical costs she was incurring. Some time later, I was directly behind her in line to grab a slice of pizza when Jeremy walked up to her and handed her a brand new in box Vitamix and the receipt for it in case she had any issues. She absolutely wept with joy at the kindness this stranger showed her and hugged him with all that she had in her.
It was truly beautiful. When he walked away to go back to his sales pitch, she showed me the receipt. He had paid full retail for it. I couldn't help myself and had to go thank him for what he did for her. He said, 'It was just a split second that God touched me and I knew that I had to buy it for her.' I had to share this man's picture with you. We need more Jeremys in the world, so if you see Jeremy pitching Vitamix at Costco (Tucson, AZ at Grant/Wilmot location), shake his hand and thank him. I'm sure he'll be a little embarrassed, but it'll make him feel good.
PREVIOUS STORY NEXT STORY SHARE YOUR STORY
Please consider
making a donation
to
Sunny Skyz
and help our mission to make the world a better place.