Sharing Smiles
By Joseph J. Mazzella • July 16, 2013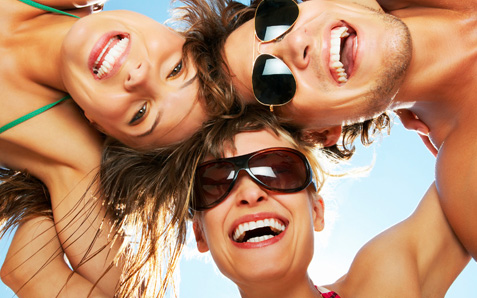 I walked outside just as the sun was coming up over the mountains this morning. It was such a glorious sight. The whole world seemed to awaken with it. The golden light made the green grass glow. The birds stirred in their nests and began to sing. A lone Monarch butterfly fluttered by my face. I could feel the love of God filling His creation and my soul as well. As I stood there taking in the beauty of the sunrise I found the corners of my mouth rising too. I smiled with joy and thanked God for another wonderful day here on Earth.
I decided to not let that smile fade as the day went on either. Instead I tried to pass it on to everyone I could. I found it very hard to give away, though, because I almost always got it returned. My sons' smiles shined brighter than the morning sun had. My daughter's smile made my heart feel lighter and my soul feel stronger. The smiles of all the people I met during the day left me feeling more connected to them, more connected to life, and more connected to God. Even my dogs had smiles and "happy pants" waiting for me when I petted them after returning home.
A smile is so much more than just a show of teeth. A smile is a prelude to laughter. A smile is a spreader of joy. A smile is a messenger of peace. A smile is a sharer of happiness. A smile is a giver of love. Smiles help to heal the heart. Smiles help to nourish the soul. Smiles help to build a better world one grin at a time.
The truth is you don't smile because you feel good; you feel good because you smile. Don't be stingy with your smiles then. Share them with joy. Let everyone see your smiling face. Let Heaven see your smiling soul. Let God's love flow through your smile until like the morning sun you light up the world.
PREVIOUS STORY NEXT STORY SHARE YOUR STORY
Please consider
making a donation
to
Sunny Skyz
and help our mission to make the world a better place.
Click Here For The Most Popular On Sunny Skyz
LIKE US ON FACEBOOK!