Fletcher's Dad
By Sunny Skyz • June 28, 2013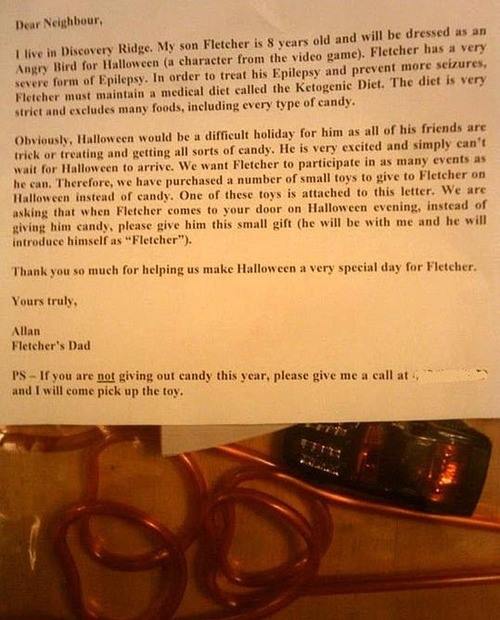 Dear Neighbor,
I live in Discovery Ridge. My son, Fletcher, is 8 years old and will be dressed as an Angry Bird for Halloween. Fletcher has a very severe form of Epilepsy. In order to treat his Epilepsy and prevent more seizures, Fletcher must maintain a medical diet called the Ketogenic Diet. The diet is very strict and excludes many foods, including every type of candy.
Obviously, Halloween would be a difficult holiday for him as all of his friends are trick or treating and getting all sorts of candy. He is very excited and simply can not wait for Halloween to arrive. We want Fletcher to participate in as many events as he can. Therefore, we have purchased a number of small toys to give Fletcher on Halloween instead of candy. One of these toys is attached in this letter. We are asking that when Fletcher comes to your door on Halloween evening, instead of giving him candy, please give him this small gift ( he will be with me and he will introduce himself as "Fletcher").
Thank you so much for helping us make Halloween a very special day for Fletcher.
Yours truly,
Allan
Fletcher's Dad
PREVIOUS STORY NEXT STORY SHARE YOUR STORY
Please consider
making a donation
to
Sunny Skyz
and help our mission to make the world a better place.