A Touch
By Joseph J. Mazzella • March 19, 2013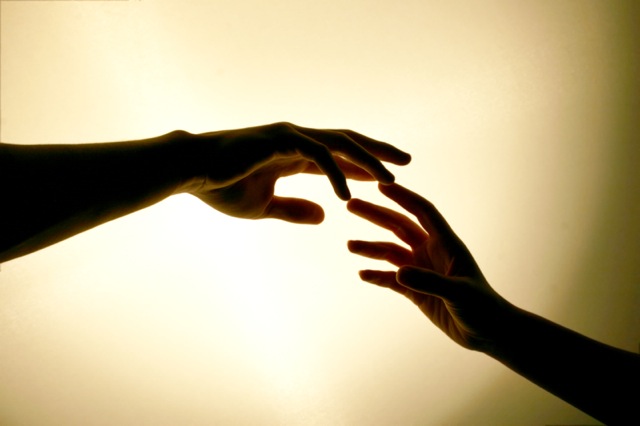 When I was 16 years old I had thick, wavy, brown hair that covered my head including my ears. I used to part it in the middle and comb it back. It was so heavy, though, that the bangs often slipped back down under my glasses when I lowered my head to read. Sometimes when I was doing my schoolwork at the kitchen table I could feel the hair starting to slide down into my eyes again. Usually I'd just let it hang there, but every now and then I would feel a gentle touch on my forehead moving the hair back into place. It was my Mom smiling down at me. She would then wash the dishes behind me while I finished my homework. I think that she enjoyed those little moments as much as I did. I was too old and too big to sit in her lap or be carried in her arms anymore, but she could still show me how much she loved me with a touch.
Now I am 46 years old. My hair is thin and light with more gray than brown. The wavy bangs have retreated all the way up my forehead with only a few strands resting on the very top. I no longer have to worry about it falling into my eyes. It is too busy falling out of my head. My Mom too has been in Heaven now for 21 years. Yet, there are times when I close my eyes and bow my head in peaceful, prayer that I can still feel the slightest touch on my forehead. When it happens I have such love surging through my heart. I know at that moment that my Mom loves me and is watching over me even now.
A touch can do so much to help others in this life. The touch of a hand can share love, ease pain, and bring joy. The touch of a kind word can catch a sinking spirit and give it wings. The touch of God's love can change your heart, heal your soul, and make you a mighty force for good in this world. May you spend the rest of your days here then touching hands, touching hearts, and touching Heaven with your love.
PREVIOUS STORY NEXT STORY SHARE YOUR STORY
Please consider
making a donation
to
Sunny Skyz
and help our mission to make the world a better place.