This Experiment With Monkeys And A Ladder Will Teach You An Important Life Lesson
By Chris • December 22, 2014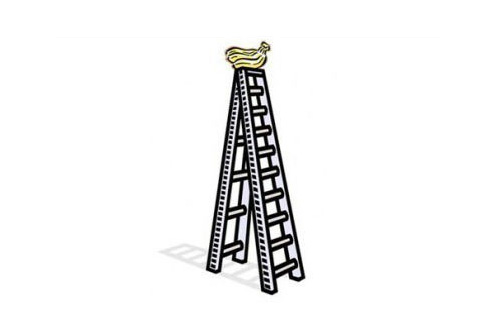 A group of scientists placed five monkeys in a cage and in the middle, a ladder with bananas on top.
Every time a monkey went up the ladder, the scientists soaked the rest of the monkeys with cold water.
After a while, every time a monkey went up the ladder, the other ones beat up the one on the ladder.
After some time, no monkey dared to go up the ladder regardless of temptation.
Scientists then decided to substitute one of the monkeys. The first thing the new monkey did was go up the ladder. Immediately the other monkeys beat him up. After several beatings, the new monkey learned not to climb the ladder even though never knowing why.
A second monkey was subsituted and the same result occurred. The first monkey participated in the beating of the second monkey. A third monkey was substituted and the same was repeated. The fourth was the same and finally the fifth monkey was replaced.
What was left was a group of five monkeys that even though they never received a cold shower, continued to beat up any monkey who attempted to climb the ladder.
If it was possible to ask the monkeys why they would beat up all those who attempted to go up the ladder, I bet their answer would be:
"I don't know. That's just how things are done around here."
CONCLUSION:
Don't follow others behavior. Think before you follow.
PREVIOUS STORY NEXT STORY SHARE YOUR STORY
Please consider
making a donation
to
Sunny Skyz
and help our mission to make the world a better place.
Click Here For The Most Popular On Sunny Skyz
LIKE US ON FACEBOOK!