A Father And His Son
By Jordan • October 13, 2014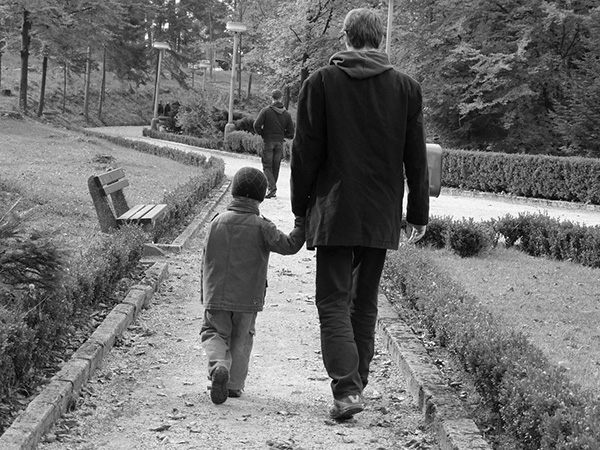 There was a small child who was brought up by his father. His father was a highly successful and extremely bright business man. He was about 50 years old with dark brown hair and deep brown eyes. He was a very neat man but he rarely smiled. He was strict, impatient, quick with anger and very passionate. These attributes all contributed to his great success in business life, but at the same time the same qualities led him become a not very pleasant father. He drove the newest Mercedes and had the fanciest suits. He was incredibly wealthy. As he traveled a lot he didn't spend a lot of time with his son. But this boy was compensated with expensive presents and private schooling. This was the way his father expressed his love for him. The son got used to getting everything he wished for.
When he turned 21 he was getting ready to graduate college. For many months he had admired a beautiful black sports car in a dealer's showroom and knowing his father could well afford it, he told him that was all he wanted. He went to see the car everyday for weeks. He took the car for a test drive, he smelled the leather seats, imagined buying it and taking it home for the first time. He took pictures of it and put them all out on his wall.
As Graduation Day approached, the young man awaited signs that his father had purchased the car. He was full of excitement like a little child. He had absolutely no doubt of getting what he wished for. Finally after days of waiting impatiently, on the morning of his graduation his father called him into his private study. He sat him down on a designer brown leather chair and looked deep into his son's eyes and said: "I am very proud to have such a fine son and for the first time he said: "I love you". His son not even hearing the words waited impatiently for his present. After all, he was used to expensive presents but his father expressing his feelings were unknown for him. Finally, the father handed his son a beautiful wrapped gift box. The son held his breath back while quickly opening the box. He had his dream car floating before his eyes. As he opened the box he found a book called "Put Your Dream to the Test". He was disappointed almost shocked. He threw the book on the floor. Angrily he raised his voice at his father and said, "With all your money you give me a book?" and stormed out of the house, leaving the book behind. He moved out of the house immediately and went on his own way.
Many years passed and the young man was very successful in business just like his father. But business was not all he took after his father. He was as strict and impatient with his own children as his father was with him. He had a beautiful home somewhere in the countryside.
One day the man realized his father was very old and thought perhaps he should go see him. He had not seen him since that graduation day. They hadn't even spoken a word since then. The father hadn't even met his grandchildren. Although the son decided to contact his father he kept putting it off. Many times he walked to the phone, took it up, sat down on the white leather sofa in his living room, looked at his wife for support and dialed holding his breath back and shaking all over. But before the phone could ring he hung up. This went on for weeks until one day he received a telegram telling him his father had passed away, and willed all of his possessions to him. He needed to go home immediately and take care of things.
When he arrived at his father's house, sudden sadness and regret filled his heart. He went into his father's study where they last spoke and thought about the last words he heard from his father. He began to search his father's important papers and in one of his drawers he found the still new book, just as he had left it years ago. He sat down on the same chair he was sitting those years before and recollected his memories of the situation that had separated them. With tears rolling down his face, he read the title: Put your dreams to the test. Then he opened the book and began to turn the pages. After the third page he saw a hole in the book with a car key in it. It had a tag with the dealer's name, the same dealer who had the black sports car he had desired. On the tag was the date of his graduation, and the words…
"WITH LOVE TO MY PRECIOUS SON WHO MADE ME SO PROUD TODAY."
Many times we prejudge people we meet and things we experience in life because they are not packaged as we expect them. We make drastic choices based on misunderstandings or simple ignorance and let the emotions resulting from these guide us. My advice to you is to stop for a moment and think before you make overall conclusions of a person or a situation and most importantly learn to forgive yourself and others!
PREVIOUS STORY NEXT STORY SHARE YOUR STORY
Please consider
making a donation
to
Sunny Skyz
and help our mission to make the world a better place.