The 5 Greatest Goals In English Premier League History
September 16, 2014
The 2014-15 English Premier League season is just getting underway, and that means football fans all over the world are tuning in for the action. In the first few weeks, we've already seen excellent play from top clubs. But before we get too far into this year's edition of the EPL, the early season is always a good time to look back! So to celebrate the first full month of club football action, here's our roundup of the five greatest goals in EPL history (and who to watch this season for more spectacular goals).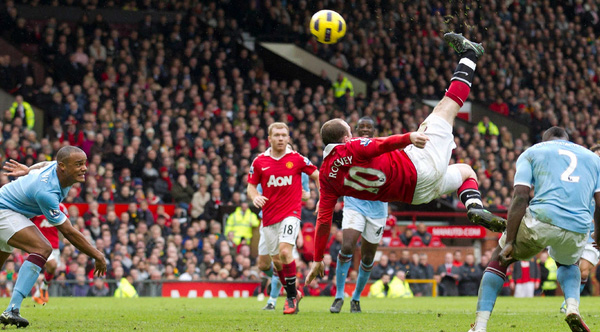 Credit: wallmild.com
5. Dennis Bergkamp's Incredible Setup
Dutch star Dennis Bergkamp had his share of spectacular moments, but this particular goal for Arsenal vs. Newcastle United was so stunning you can watch it five times in a row and still not be sure what he actually did. Last year, Bleacher Report posted an article simply for the sake of arguing that this was the best goal in Arsenal's esteemed history, and frankly it's hard to argue!
4. Cristiano Ronaldo's Screaming Upper-90
Filling a list of spectacular goals, it would be easy enough to turn to set pieces—plays during which the game's best scorers are often able to manufacture seemingly impossible goals. The truth, though, is that most of these shots end up blending together over time. But not this one. Playing for Manchester United against Portsmouth in 2008, Ronaldo had the ball some 25 yards out on the right side. Then, he sent it screaming over the wall and so flawlessly into the upper right corner of the goal that the Portsmouth keeper was left standing and watching.
3. Paolo Di Canio's Sky-Walking Volley
Paolo Di Canio's acrobatic and powerful goal for West Ham against Wimbledon is the stuff of EPL legend. Di Canio, unmarked in the box, took a carrying cross out of the air, pumped his legs in motion and unleashed an absolute rocket of a shot.
2. Thierry Henry's Magical Volley
Henry has some of the best scoring highlights of any footballer, so it's tough to pick just one moment of his to feature. But the one-of-a-kind striker's wondrous volley against Manchester United in 2000 is about as good a goal as we'll ever see. With his back to the net, Henry took the ball just outside the box, flicked it up to himself, turned, and sent a beautifully placed shot into the back of the net, sending the Arsenal home supporters into a frenzy.
1. Wayne Rooney's Bicycle Kick
There's some degree of good fortune in great bicycle kicks. However, this one is as deliberate as they come and takes the top spot not only because of its quality but because of its necessity. Rooney's incredible bicycle kick in the box in a 2011 contest with Manchester City led to a crucial Man U win down the stretch in what became a championship season for the folks at Old Trafford.
Ultimately, these are just five of the dozens of legendary goals that have been scored in EPL play over the years. And each new season, a new batch of amazing moments are thrown into consideration for the best plays in league history. With this in mind, here are a few players to keep your eye on throughout 2014-15 in search of the next great goal.
Diego Costa (Chelsea)
Chelsea's newly acquired star was the first to four goals in this year's Premier League, which certainly indicates he'll be finding the back of the net a great deal. Betfair's EPL news section, in previewing this weekend's contest with Swansea, wrote that Chelsea's scoring output will depend largely on Costa's recovery from a minor hamstring injury. Why? Because Costa scored in each of the club's first three games. Also, as the article noted, he has made an incredibly quick adjustment to his new club and league.
Radamel Falcao (Manchester United)
Brought in from Atletico Madrid essentially to save Man U after their disastrous 2013-14 season, Radamel Falcao is now about as gifted a scorer as we have in the Premier League. He'll likely take some time to find his groove—particularly with the likes of Wayne Rooney and Robin Van Persie also racking up goals—but Falcao is bound to have a few special moments. If you're curious what these might look like, check out The Daily Mail's rundown of his 10 most impressive goals to date.
Raheem Sterling (Liverpool)
Sterling isn't a league newcomer like Costa and Falcao, but he does have a new opportunity this season. Liverpool is looking to replace an enormous goal-scoring load after losing Luis Suarez to Barcelona over the summer, and Sterling is a prime candidate to get the job done. Wayne Rooney recently praised the young star, saying he'd be a "massive player" for England for the next 10 to 15 years. He'll likely turn a few heads this year playing for Liverpool.
Keep your eyes peeled and you may see one of these three, or any number of other talented EPL scorers, work their way onto the list of the league's greatest goals!
Please consider
making a donation
to
Sunny Skyz
and help our mission to make the world a better place.
Click Here For The Most Popular On Sunny Skyz
LIKE US ON FACEBOOK!